EUROPEAN REVIEW: SEC Pardubice / Golden Helmet
Dan Bewley's chase for a top five finish in the Speedway Euro Championship fell just short in Pardubice last Friday.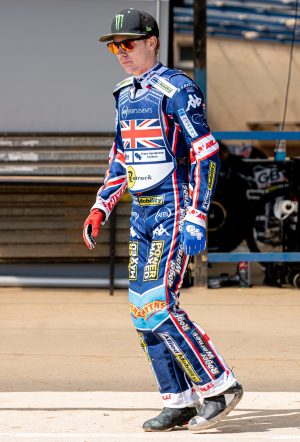 Image courtesy of Steve Hone Photography
But the GB star did gain some consolation with a brilliant victory in the prestigious Czech Golden Helmet meeting at the same venue two days later.
Qualification for the 2023 SEC was always going to be a stretch for Bewley given that he missed the opening round of the competition in Rybnik due to injury.
But as it turned out he did manage to overhaul Bartosz Smektala, who had gone into the meeting with a five or six-point advantage over all of his rivals.
The problem for Bewley, who finished third on the night, was that Dominik Kubera did even better, with 12 points in the qualifying races compared to Bewley's nine, and that meant Kubera snatched fifth place – a fine achievement given that he too missed one round of the series.
The meeting was won by outgoing champion Mikkel Michelsen, who did enough get past Patryk Dudek in the standings and claim third place overall.
Meanwhile Leon Madsen was second on the night, with that result being enough to see him crowned champion for the second time, just one point ahead of Janusz Kolodziej after a classic battle between the pair throughout the meeting.
Madsen beat Kolodziej when the two met in Heat 17, meaning the Pole led by one point, but crucially Madsen went through the last chance semi-final whereas Kolodziej dipped out of the meeting at that stage.
That meant two points for Madsen in the Final were enough to see him take the title by the narrowest of margins.
With Rasmus Jensen sixth overall on 31 points, Bewley was seventh on 30, whilst Adam Ellis finished on 12 points after a tough debut SEC season – which did include the consolation of a race win in Pardubice as he took the flag in Heat 15 ahead of Oliver Berntzon, Michelsen and Dimitri Berge.
Bewley then became the first British rider since Scott Nicholls back in 2005 to win the Golden Helmet as he held off Vaclav Milik over the full six laps of the Final.
Bewley won his quarter-final group and progressed along with Jensen and Andzejs Lebedevs, with Matic Ivacic and David Bellego going out.
Meanwhile Ellis made it through the first group stage along with Jaimon Lidsey and Ivacic, and then went through the quarter-finals leading the section ahead of Jason Doyle and Kevin Wolbert, with Luke Becker, Smektala and Berntzon missing out.
Both GB riders were in the same semi-final group, where Wolbert led the way on ten points ahead of Bewley on nine and Lebedevs on seven, with Ellis eliminated along with Matej Zagar and Niels-Kristian Iversen despite finishing second in his opening ride.
Ellis then finished fifth in the consolation final, which was won by former treble champion Doyle, before Bewley gated superbly in the Final and moved aside Timo Lahti, who was an almost immediate retirement.
Bewley had to resist plenty of pressure throughout the race but did so to finish ahead of Milik, Jensen, Lebedevs and Wolbert for another big Individual meeting victory.
On Sunday, Lublin became Polish Ekstraliga champions for the first time in their history in a nail-biting climax against Gorzow which went right down to the final stages.
Gorzow led by 12 points from the first leg and mounted a sterling rearguard action thanks to a virtual two-man show from Bartosz Zmarzlik, in his final appearance for the club, and Martin Vaculik.
Vaculik suffered a cruel engine failure on the last bend when leading Heat 10 enabling Lublin to take a 5-1 which levelled the aggregate scores, and after Jarek Hampel beat Zmarzlik in the next race the hosts were ahead overall.
However Gorzow came back in a dramatic Heat 13 which saw Michelsen excluded for falling after Zmarzlik had passed him, with the visitors taking a 4-2 in the re-run as Zmarzlik came out on top in a thrilling battle with Kubera.
But Heat 14 always looked likely to favour Lublin, although there was initially hope for Gorzow when Szymon Wozniak made the start. However, he lifted on turn four and then tangled with Michelsen on the home straight, going down on his way into the bend and being excluded.
Kubera and Michelsen raced to a 5-1 in the re-run which effectively secured the title as an aggregate draw would have been enough due to Lublin's higher league placing.
As it was, Zmarzlik won a shared last race to complete a 19-point haul, and he and Vaculik scored all but eight of Gorzow's points on the night. Lublin won 53-37, with Kubera top-scoring on 15+1, and they took the title 92-88 on aggregate.
The third-place play-off was more routine as Czestochowa defeated Torun 59-31 to win on aggregate by 26 points, leaving them to again wonder what might have been had they made the Final.
Fredrik Lindgren scored a 13+2 paid maximum for the hosts, whilst Robert Lambert as so often in 2022 was the top man for Torun, notching 13 points from seven rides including two race wins.
The Division One play-off Final was also dramatic, and Krosno are celebrating promotion to the top flight after edging out Zielona Gora 91-89 on aggregate.
There was action and controversy throughout, and with the aggregate scores level with two races remaining, a big crash in Heat 14 saw Max Fricke and Mat Szczepaniak tangle on the back straight and go into the third bend fence, with Fricke suffering season-ending injuries.
The re-run saw Tobiasz Musielak defeat Krzysztof Buczkowski to edge Krosno back ahead overall, and whilst Piotr Protasiewicz signed out from his distinguished career with a race win in Heat 15, it wasn't quite enough to take Zielona Gora back to the Ekstraliga as Lebedevs and Milik kept Rohan Tungate at the back for the 3-3 which Krosno needed.
Poznan won promotion to Division One as they held Opole to a 46-44 victory in the second leg of their Final to confirm a comfortable aggregate victory, with Danish youngster Emil Breum impressive with 14+1 at reserve.
Attention switches to the Swedish Bauhaus-Ligan play-off Final this week and a fascinating clash between Lejonen and Smederna, staring at Eskilstuna on Tuesday.
Lambert and Bewley both line up for the visitors along with in-form Kacper Woryna, whilst the hosts include their Polish trio of Zmarzlik, Dudek and Kubera, along with Benjamin Basso at reserve.