EUROPEAN REVIEW: SGP Qualification Rounds
Great Britain duo Dan Bewley and Robert Lambert have both qualified for the Grand Prix Challenge at Glasgow in August.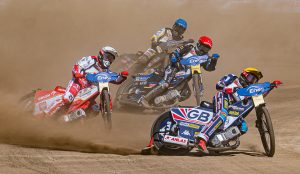 Image courtesy of Steve Hone Photography
The current GP pair both came through Saturday's qualifier at Slovakian venue Zarnovica, finishing on the podium in a meeting won by home favourite Martin Vaculik.
Bewley finished second in his first two rides before reeling off three successive wins, whilst Lambert had four wins along with a third place in his second outing.
With Vaculik on 14 points, the two British riders met in a run-off for second place on 13, won by Bewley, whilst Denmark's Rasmus Jensen took the final qualifying spot – and will doubtless be a threat in the Challenge on his old Ashfield home track.
Meanwhile in Hungary Chris Harris missed out on eight points as he was left to rue a last place in his first ride.
Dominik Kubera was victorious at Nagyhalasz, defeating Oliver Berntzon in a run-off for first place, whilst David Bellego and Vaclav Milik took the other qualifying places, edging out Brady Kurtz who finished last in his final ride.
There was high drama in the PGE Ekstraliga on Sunday with Lublin losing their 100 per cent record but salvaging their unbeaten run with a last-race 5-1 to draw 45-45 at Wroclaw.
Mikkel Michelsen and Jarek Hampel stunned the home crowd as they got the better of Maciej Janowski and Gleb Chugunov in the decider, with Michelsen having picked up a controversial exclusion earlier when Chugunov went down.
Another tremendous display by Bewley saw him score 11+2 at reserve, and his win over Kubera in Heat 14 with Tai Woffinden third looked to have sealed the victory for Wroclaw.
Meanwhile Woffinden scored 7+1 from six rides after two uncharacteristic last places in his opening two outings.
Lambert was in sensational form in Czestochowa as he scored 15+1 for Torun in a 50-40 defeat – in which he and Patryk Dudek scored all but nine of the visitors' points!
Lambert won three races and also had a paid win in a 5-1 with Dudek in an entertaining fixture, as well as breaking the track record in Heat 7.
Highlight of the meeting was a dramatic ride by Freddie Lindgren in Heat 6, passing both Pawel Przedpelski and Dudek, whilst Leon Madsen led the way with 13 points.
Elsewhere there was also a track record at Leszno, recorded by Janusz Kolodziej, but the home side were taken all the way by Grudziadz who remarkably led 10-2 after two races.
It took until Heat 13 for Leszno to take the lead, and Kolodziej won the last-heat decider to give the hosts a 47-43 win, but GKM took a notable aggregate bonus point.
The other fixture of the weekend was a routine 55-34 away win for Gorzow at basement club Ostrow, with Bartosz Zmarzlik scoring 14 points and being beaten only by Berntzon. Youngster Oskar Paluch made an impressive debut with 5+1 from three rides despite an early crash when he collided with team-mate Mateusz Bartkowiak.
The league table now shows Lublin four points clear of Leszno at the top, with Gorzow one point further adrift. Czestochowa have nine, whilst Grudiadz and Wroclaw are both on seven, leaving Torun just outside the play-off places on six.
Two meetings took place in Division One and Bydgoszcz are the new leaders after beating Zielona Gora 49-41 thanks to a flying start which saw them go 12 points up after Heat 4, and they also took the bonus point.
Meanwhile Landshut won 46-44 in Lodz for a first away win at this level, and they also took the bonus point.
Bydgoszcz and Zielona Gora both have 15 points after nine rounds, and are five points clear of Krosno who have two matches in hand, whilst Landshut move above Lodz into fourth.
In Division Two, Adam Ellis was in terrific form for Daugavpils as he scored 16+1 from seven rides in their 52-38 defeat at Rawicz. Elsewhere, Opole thrashed Tarnow 58-32, and Rzeszow were even easier 62-28 winners over bottom club Pila with Kevin Wolbert scoring a full maximum.
Opole are two points clear of Rawicz at the top, with Poznan a further four adrift but with two matches in hand, and Daugavpils are fourth.