EUROPEAN REVIEW: Speedway Euro Championship / PGE Ekstraliga
Dan Bewley remains six points off the top five of the Speedway Euro Championship after scoring eight in the third round of the series at Lodz.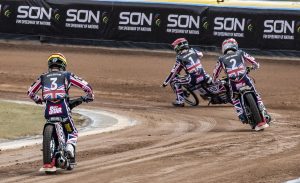 Image courtesy of Taylor Lanning Photography
Bewley, who missed the first round due to injury, matched the eight points of fifth-placed Bartosz Smektala at the Polish venue with both riders frustrated to miss out on the semi-final.
Bewley could point to a key mechanical failure on the last bend of his third ride which cost him a point, whilst Smektala ran a surprising last place in his final outing to hand series leader Janusz Kolodziej a route into the closing stages.
To reach the top five and qualification for next year, Bewley needs to make up not just the six-point gap to Smektala, but also clear Piotr Pawlicki and Rasmus Jensen – and possibly first series reserve Dominik Kubera – who are all just one point ahead.
At the top of the order, Kolodziej won his second meeting in succession although Leon Madsen and Kubera scored the most points in the meeting, and Madsen has closed the series lead to just one point.
Kubera was second on the night with Kolodziej passing his fellow countryman midway through the Final, with Madsen surprisingly relegated to third place from the inside gate.
Patryk Dudek was fourth in the Final and is now third overall, six points behind Kolodziej, but defending champion Mikkel Michelsen is effectively out of title contention after scoring just six, leaving him ten points off the pace.
Adam Ellis scored two points in his final ride, in his first meeting back from a broken collarbone, a result which indirectly assisted Bewley as those two points came in the race which prevented Smektala from reaching the semi. The series concludes in Pardubice on September 23.
Robert Lambert top-scored for Torun in both legs of their PGE Ekstraliga semi-final against Lublin.
But a dramatic tie saw the league leaders prevail by eight points on aggregate, despite a major injury scare over Michelsen, who crashed during the practice laps ahead of the first leg at Torun.
Lambert scored 14 points from six rides in that meeting, finishing last in his opening outing but then delivering a sensational display with a second followed by four straight wins.
With Pawel Przedpelski and Jack Holder also in double figures, it was 50-40 to Torun after that meeting and all to race for at Lublin on Sunday.
However, Lublin began to turn the screw after six races of the return fixture and although Lambert scored 13 from seven outings, he ran out of support beyond paid-ten for Przedpelski.
SGP2 series leader Mateusz Cierniak failed to score at Torun but then raced to 14 from five rides at home, as Lublin won 54-36 on the day, and 94-86 on aggregate.
Meanwhile there was more drama in the other semi-final where favourites Czestochowa recorded a 45-45 draw at Gorzow in the first leg and seemed highly likely to progress – even though they had thrown away an eight-point lead in the closing four races of that meeting.
But the return fixture produced a major upset with Bartosz Zmarzlik in sensational form, and matters boiled up in Heat 14 when Patrick Hansen was controversially excluded after Czestochowa duo Kacper Woryna and Bartosz Smektala came down.
That gave Czestochowa a chance, but Zmarzlik completed a six-ride paid maximum in Heat 15, teaming up with Martin Vaculik who scored paid-16, for 5-1 to give them a 48-42 win in the meeting and 93-87 on aggregate.
The first leg of the Final, and indeed the third place play-off, takes place this Sunday, with the return matches on the weekend of September 24/25.
In Division One, Kroszno and Zielona Gora will fight it out for promotion after completing aggregate wins in their semi-final ties.
Zielona Gora's progression was straightforward as they were 20 points ahead from the first leg as they headed to Bydgoszcz, and they held the home side to a 47-43 win on the day, with Max Fricke scoring a 12-point maximum.
But the other fixture was much closer with Lodz 49-41 up on Krosno, who levelled the aggregate scores after five races but the found themselves six down once more with six heats remaining.
However, the closing stages went Krosno's way, although it went down to a last-heat decider where a 3-3 from Andzejs Lebedevs and Vaclav Milik behind Niels-Kristian Iversen gave them a 50-40 win on the day and 91-89 on aggregate.