GB boss sees 'visible growth' of young stars
Great Britain co-boss Simon Stead has hailed the "visible growth" of the next generation of track stars thanks to the GB Academy.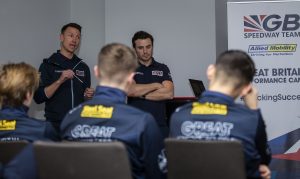 Images courtesy of Taylor Lanning Photography
It's undoubtedly been a difficult year for the sport due to the cancellation of the league season because of the coronavirus crisis. However, the emergence of the GB Academy has been accelerated with young GB stars having more time to train. That has meant several Academy days around the tracks in the UK and the GB backroom team have been on hand every step of the way.
Stead admitted: "Obviously it's been such a tough season for everyone connected with the sport. But in difficult times it's important to stay positive and look at opportunities. In some respects, it has been a good thing for the GB Academy. It was formed during the winter and now we are seeing the fruits of that labour. So many of our young riders are benefiting from the intensive support from all at the Great Britain Speedway Team."
"There's been several days held at tracks like Leicester and Redcar. The reports back from many riders like Kyle Bickley, Drew Kemp and Jordan Palin has been extremely positive. It's fair to say we can actually see the visible growth in maturity of these talented kids. We began the year with our Performance Camp in Southampton and that support has continued. There's been regular Zoom sessions with the riders to assist them with fitness, nutrition and mental awareness. It has been such a difficult few months because of the lockdown. But I'm satisfied with the reaction from the riders, they have responded with a lot of resilience."
Many of the Academy days have been hosted by seven-times gold medal winner Jason Crump, and that's been a valuable asset to the young GB prospects. Stead continued: "It's been important for the kids to have one-to-one track time with Jason, I would go as far to say priceless. The addition of that along with the advice on off-track responsibilities has been vital. To have a three-time World Champion assisting on preparation and track knowledge has been an essential cog in the process.
"There's a lot to achieve still this season. We have the FIM U21 Team World Championship final in Denmark early next month. With so little competitive track time so far this season, the preparation has had to be even more essential. But we are delighted with the progress of the Academy. We can see the solid progress all round. It's very encouraging."