GB BOYS HAVE SIGHTS SET ON CARDIFF WIN!
DAN BEWLEY admits he is only focused on winning GP rounds not podium medals. The defending British GP champ goes into his home event at the Principality Stadium with a huge amount of expectation on his shoulders.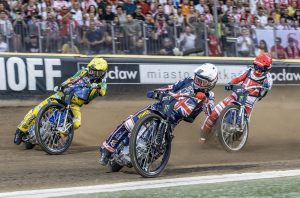 Image courtesy of Taylor Lanning Photography
He is part of a four Brit assault on the event in Cardiff alongside Tai Woffinden, Robert Lambert and wild card Steve Worrall.
But Bewley, 24, remains laidback about the pressure of the occasion.
He said: "I'd love to be World Champion. But as far as second and third, it's not something I'm too fixated on.
"I think it's kind of out of reach to win gold this year, especially after Riga. But we've got a few more rounds to go.
"I'd rather have some GP round wins than a Silver or Bronze really.
"The way I see it is that if I go out and win a couple of rounds I'll probably get in the top three or whatever anyway.
"To be honest everything feels pretty good. I think we are in a good spot now with bikes. I think I am riding pretty good. Every meeting has been pretty decent for the last month or so."
Woffinden, runner-up twice at the in Cardiff, admits it would be emotional to finally win.
He said: "My aim right now is to make the top six and secure my spot for next year, that's the main focus at the moment. Winning the championship is not possible.
"I would probably cry if I won it at Cardiff. It would be cool but I'm not putting that pressure on myself.
"We had issues last year and had to finish early. I'll go there and have fun and treat it like every other Grand Prix."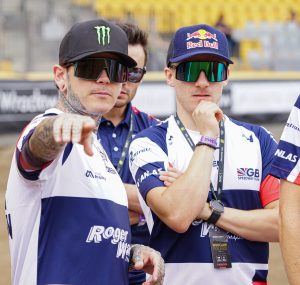 Image Courtesy of Steve Hone Photography
Lambert has been in excellent form but a GP win still eludes him and he wants to end that record.
He said: "That was the goal before the season – to better last year's performance and get a medal. That's going to be tough now. I need some consistently good rounds and I need to be in the finals. A medal is definitely the goal we are fighting for, and the last resort is to qualify for next season's Grand Prix series.
"Any kind of podium in the last three rounds is going to be a bonus for me and something to finish the season off on a high with. It has been a consistent season, I would say. There could have been a few more highs and some more success, but overall, it has gone well."
It's a great opportunity for wild card Worrall to impress Great Britain bosses on the biggest stage of all.
He said: "I get the opportunity to go to Cardiff. There are not many British riders who have that on their resume. What an opportunity, and it's an absolute honour.
"It's one of the best GPs on the calendar, if not the best, so to be going there as part of the whole event is a dream come true. There is no pressure on me. It is a one-off event. I'll just have some fun and see where it takes me."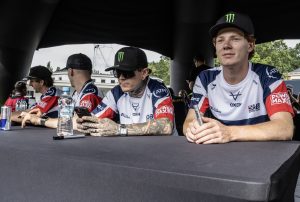 Image courtesy of Taylor Lanning Photography