GB "STRONG BELIEF"
GREAT BRITAIN boss Olly Allen believes his side have a "strong belief" as they bid to retain the Speedway of Nations.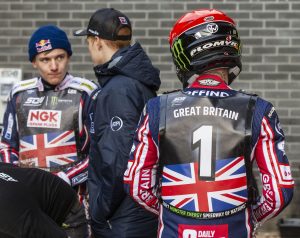 Images courtesy of Taylor Lanning Photography
Three of last year's four gold medal winners Tai Woffinden, Robert Lambert and Dan Bewley have been picked to defend the title they won so dramatically in Manchester last October.
Each nation selects two starters at No.1 and No.2, as well as a No.3 reserve rider, who can be called into action as a substitute by the team manager at any time throughout the event.
GB's three-time World Champion Tai Woffinden captains the Lions, starting Semi-Final 2 alongside former European champion Robert Lambert, with rising GP star Dan Bewley listed at No.3.
Britain begin their track action on Thursday in Vojens, Denmark against Czech Republic, France, Sweden, Italy, Slovakia and Slovenia.
The top two teams after 21 heats automatically join hosts Denmark in the FIM SON Final on Saturday, July 30, with the third and fourth-placed teams competing in the Final Qualifier for the last spot in Saturday's Final.
Allen said: "There's no doubt in my mind this is the strongest side we've fielded for Great Britain in years.
"It's a huge task to defend any World Championship win and there are some terrific teams in the competition.
"But we arrive in Vojens with a strong belief. The main objective was to get to Denmark with our three top riders fully fit.
"Obviously we had a huge scare with Dan after his big crash in Wroclaw. Naturally we are delighted he is back.
"All three have shown outstanding form in Poland and Sweden. So we come into the event in good shape.
"Vojens is always a very fair racing track and has been a fantastic stage for the biggest meetings in the history of the sport.
"The semi-final will be challenging with so many outstanding riders in contention. We'll go at it one race at a time and I'm super-confident in the ability we have in the team."
FIM SPEEDWAY OF NATIONS SEMI-FINAL 2 – STARTING LINE-UPS (IN DRAW ORDER):
A – CZECH REPUBLIC: 1 Vaclav Milik ©, 2 Jan Kvech, 3 Petr Chlupac. Team Manager: Zdenek Schneiderwind.
B – GREAT BRITAIN: 1 Tai Woffinden ©, 2 Robert Lambert, 3 Dan Bewley. Team Managers: Simon Stead and Oliver Allen.
C – FRANCE: 1 Dimitri Berge, 2 David Bellego ©, 3 Mathieu Tressarieu. Team Manager: Laurent Sambarrey.
D – SWEDEN: 1 Fredrik Lindgren ©, 2 Oliver Berntzon, 3 Victor Palovaara. Team Manager: Morgan Andersson.
E – ITALY: 1 Paco Castagna ©, 2 Nicolas Covatti, 3 Daniele Tessari. Team Manager: Alessandro Dalla Valle.
F – NORWAY: 1 Glenn Moi ©, 2 Espen Sola, 3 Lasse Fredriksen. Team Manager: Linn Anette Topstad.
G – SLOVENIA: 1 Matic Ivacic ©, 2 Nick Skorja, 3 Anze Grmek. Team Manager: Gregor Arnsek.