IT'S GOLD FOR GB
GREAT BRITAIN team boss Olly Allen believes winning gold in the FIM Speedway of Nations can be the springboard to more glory.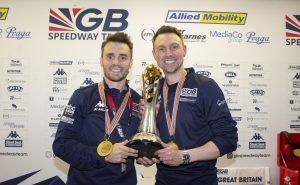 Image courtesy of Taylor Lanning Photography
Robert Lambert and Dan Bewley clinched the silverware in a dramatic grand final shootout against Poland in front of a sell-out crowd at the National Speedway Stadium last night.
It was a remarkable twist after GB had lost Tai Woffinden with rib and leg injuries and was replaced by Bewley for Event Two.
But Lambert, Bewley and reserve Brennan produced a strong end to the event to take victory after Maciej Janowski crashed out of the final.
Allen vowed: "While we will enjoy this incredible moment, we immediately look to the future.
"This must be the springboard for more success. To win it with three riders today at 24, 22 and 20 is very satisfying. Tai is naturally our talisman and leader but this is a terrific for all our young riders to see what can be achieved.
"To get this result so early, and it is early, because this is such a young team is very special and we couldn't have scripted it. It was in Manchester in front of a British crowd, in front of our sponsors and partners."
Bewley and Lambert knew avoiding last place in the final would hand them the world title but the Cumbrian found himself at the back on the first lap, only to bounce back and earn Great Britain's first gold medals since the World Team Cup Final in 1989 – when Lambert had only just been born!
Joint team boss Simon Stead added: "That is an incredible achievement and something we can all be proud of and puts us into the history books.
"This is part of a process and each and every one of you have believed in it and bought into it. This is just the start."
Bewley scored 11 points in a battling display and added: "It was an incredible feeling. Once I saw that Magic Janowski had fallen, I knew we'd done it but still had to stay on for three laps.
"I must admit it felt like I'd forgotten how to ride a bike. My arms went weak knowing we were on the verge of gold.
"It's very special to have won the Speedway of Nations on my home track and where I started, in front of the fans who have supported me from day one.
"This is for the fans of Great Britain. We've had to wait for so long and it was awesome to get the chance to race and win it."
Lambert was outstanding in both events, leading from the front and ended the tournament as captain. He said: "We have had a hard weekend with Tai getting injured. But obviously we had a strong guy to come into the team in Dan.
"I was born in 1998. It's the first time in my lifetime that I have seen Great Britain as world champions, apart from Woffy being a world champion as an individual.
"It's a great feeling and I am going to treasure this gold medal for as long as I live.
"We did it with such a young team as well. Dan and I went out and did the business in the last race at such a high level against the two best Poles in the world.
"It's such a great feeling for us and also GB. I am very, very proud of everyone involved."