Jenkins thankful for 'GB' support
Having had his first full season in the SGB Championship curtailed by COVID-19, Jordan Jenkins is still in as good a shape as he has ever been as British Speedway sits in limbo.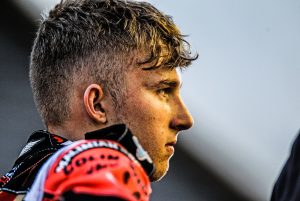 Image courtesy of Taylor Lanning Photography
The recently turned 19-year-old was due to ride for the Redcar Bears in a season that could have been one that sprung him into the limelight of Speedway in the UK but now he has to keep his temporary job at Tesco's until maybe next March.
Jenkins said: "I was the most prepared I have ever been and I felt ready for it, I want to do Speedway for as long as I can and at the highest level so ever since I swung my leg over the bike in the winter I've been pushing myself a lot harder. I've ridden a few times since we've been allowed and hopefully there will be more opportunities available to get on a bike and have a ride."
The Norfolk-born Jenkins was introduced to the 'No Limits Speedway Programme' (now GB Academy) in 2018 and he says that they have been a big help and influence on him, both in Speedway, and in life. He said: "It's helped me massively, prior to their involvement, I don't think I even realised how important fitness is in the sport. Not only has it taught me about the fitness but also the mental side of the sport, and I think that's what has benefitted me over the winter. The wealth of knowledge there with Rory Schlein, Jason Crump, Paul Suggitt and Chris Neville, I can just message them whenever I have a question and they always have an answer."
He was with the programme when, in May 2019, he broke his back while racing in the National League and he is still very thankful for everything they did for him during his recovery. "I had two 15-point maximums in the two days before I broke my back," said Jenkins.
"Had I not done that, I would be much further along in my development, but this year I feel like I would have been. I had seven meetings in seven days and I broke my back on the seventh day. I was riding with No Limits (GB Academy) the day before I did it and all that training helped my rehabilitation and getting back onto the bike. My first time back on the bike was at Glasgow and it was great to have a go in a practice rather than straight back into racing."
"Paul Suggitt and Chris Neville got me in touch with a physiotherapist near me and that gave me an extra confidence boost. If I wasn't part of the group, I wouldn't be on the bike as much or getting the advice I am. I'm very lucky."
2020 will seem very odd for many riders across the country as they are unable to race in a league scenario but Jenkins himself took time out of the sport in 2017 as his school commitments and exams became a priority." Jenkins said: "I only missed about a month of the season while I did my GCSE's. It was my first year with Mildenhall and they were really good with me, as were my school in helping me balance school and Speedway. My Grandad has always told me that Speedway won't last forever and I realised that when I broke my back that I was lucky to still be able to ride. So if I needed something to fall back on I had that and hopefully I won't need it for a long time."