JORD'S GB BACKING FOR GLORY
JORDAN Jenkins believes that Great Britain's backing has helped him deal mentally with the rigours of racing.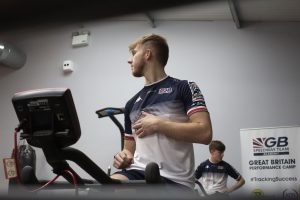 Images courtesy of Taylor Lanning Photography
The highly-talented Redcar kid has made significant progress since serious injury halted his hopes three years ago.
Now Jenks, 20, reckons that the success of Great Britain has given all his generation a boost to aim high.
He said: "My progress prior to 2018 went quite quick, I was probably up there in the top three in my age group. I was doing very well in the National League.
"But breaking my back in 2019 really set me back. Not just physically but mentally it had a big effect, I only just recovered from that last year.
"It was a fairly decent 2021 for me. I got through the Under-21 semis and rode in the final with a broken wrist but still managed to finish high up.
"It's time to kick on now after proving to myself last year that I can do it at Championship level.
"I want to be the best in Great Britain and in the world. There's 15 or 16 other kids all fighting for the same spot.
"The future is bright for Great Britain, that's for sure. The backroom staff of Chris Neville, Jeremy Holt and Rebecca Blake are outstanding.
"I've sat and had long conversations with Jeremy about stuff I was stressed out about and I immediately felt 100 per cent better. He has really opened my eyes and given me a big incentive to realise that I can get past it. I'm really excited to iron out a few of those problems."
Jenkins' believes that Tom Brennan's gold medal in the Speedway of Nations proves that all his generation can aspire to glory.
He added: "Everyone involved at GB is making sure it's going in the right direction.
"I've said all the way along that Tom Brennan, Drew Kemp and Leon Flint are amazing riders. But I don't view myself any differently to them. I've been riding against them all my life, I've beaten them, they've beaten me.
"I would say I'm on the same level if I'd just had a bit more luck. It could have been me in the Speedway of Nations, everyone is envying Tom for getting that gold and having a great year. Fair play to him and that's an incentive for all of us.
"I'm also riding out in Poland with Czestochowa and hopefully that will push my progress a bit quicker."