Lambert chasing European glory
Great Britain's Robert Lambert faces one of the biggest meetings of his career on Wednesday as he stands on the brink of glory in the Speedway Euro Championship.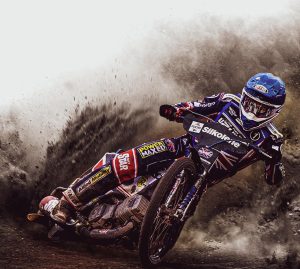 Image courtesy of Taylor Lanning Photography - Design by Curtis Sport
Lambert's victory at Gniezno last week, and the bumper 17-point haul that went with it, means he goes into the final round of the competition as series leader on 53 points – two ahead of former champion Leon Madsen, who most unusually failed to reach the Final in that meeting. And with overall success also carrying with it an automatic place in next year's Grand Prix series, the stakes are high in Torun.
Adding to the drama is the fact that the two main title contenders clash in the very first race of the meeting, in a heat which also features Krzysztof Kasprzak and David Bellego. Both Lambert and Madsen can look back on good previous results at the Motoarena, as when the series started at the same venue back on July 4, Madsen won the Final but Lambert took the joint-most points from the meeting alongside Nicki Pedersen.
However, last October, Madsen reeled off a 21-point maximum in the Grand Prix at Torun to secure his position as World No.2. Avoiding mistakes and handling pressure will be some of the keys to success, but Lambert's hugely impressive record throughout the season as a whole means he must have a great chance.
He said: "I didn't expect to be in that position after the meeting (in Gniezno) which I am now. It will be a tough fight in the last round to get all the points that I need. I'm going to try to get that top position and it definitely will be my main goal in Torun."
There is a third rider who also has a title chance, although Grigory Laguta's hopes are more of a long shot. The Russian is nine points behind Lambert going into the meeting so will be relying on major slip-ups from the top two, but that is far from unheard of in a series which has a history of dramatic finishes.
In 2013, Pedersen headed to Gdansk with a five-point lead over Martin Vaculik only for the Slovakian to score an 18-point maximum and secure the crown - whilst in 2016 Pedersen remarkably went from ninth to first in the decider at Rybnik, clawing back six points on leader Antonio Lindback who found himself outside the top five!
And last year, Laguta himself was on the wrong end of things when his four-point margin over Mikkel Michelsen – he had been 12 points ahead of the Dane halfway through the series – was whittled back before Michelsen won a run-off for the title.
This year, Michelsen is likely to be restricted to the battle for a top five place and qualification for the 2021 SEC. He is currently fourth on 38 points, with Pedersen and Bartosz Smektala on 35, Timo Lahti on 32 and Bellego not quite out of range on 28.
Supporters are reminded that they can follow all the action from Wednesday's big decider in Torun, Poland live on British Eurosport 2, with the action underway at 6pm BST.