Lions roar to victory in Perth!
Great Britain hero Tai Woffinden roared to a 14 paid 15-point maximum on his Lions return to inspire his country to a 50-39 victory over Australia in a test match at Perth's Pinjar Park.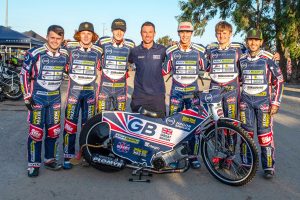 Woffy sat out the 2019 Monster Energy FIM Speedway of Nations Final due to a back injury and endured a difficult end to the season in the FIM Speedway Grand Prix series.
But there wasn't a hint of rustiness from the Wroclaw star as he blazed through the card on the track his late father Rob helped to build in the city where he spent his childhood years.
Woffinden faced an Aussie side led by fellow triple World Champion Jason Crump, who came out of retirement to notch nine points.
Joint GB boss Simon Stead took charge of the team for the first time after jetting to Perth from the UK, while local favourite Steve Johnston managed the Aussie side.
Stead paid tribute to Woffinden and GB's future stars as he joins Oliver Allen in leading their quest for a first world title since 1989. He said: "That's a great result for the lads who all adapted themselves very well to a track which is pretty alien to what they are used to.
"They were led impeccably by Tai Woffinden who was brilliant and the team spirit in the pits was fantastic to see with everyone going about their business with a smile on their face.
"I'm proud of what the boys did and they were all proud to represent the GB Speedway Team - now we have to do it all again on the bigger track tomorrow."
GB shooting star Dan Bewley was one man who impressed the new boss ahead of the Monster Energy SON Final at Manchester's National Speedway Stadium in May. He proved he's just as at home on the tiny Pinjar Park track as he put in an all-action display to record 10 paid 11.
Drew Kemp notched nine paid 10, Jason Edwards scored a straight nine and Leon Flint added eight paid nine.
Cameron Heeps topped the Australian team's scorechart with 10 points as he warms up for another European season with Ipswich in the SGB Premiership and Championship newcomers Kent.
Kale Ballantyne raced to nine paid 11, with local track specialist Dan Winchester adding eight paid nine.
The teams met again at Pinjar Park the following night for event two and Great Britain once again dominated proceedings finishing with a 54-36 victory over Australia making it 2-0 to Great Britain over the two legs.
Great Britain Speedway Team Managing Director, Rob Painter said of the weekend: "It's not easy to arrange a Test Match on the other side of the world. But this is very much part of how we see the future.
"We could not do this without the backing of our Great Britain partners and we will continue to focus on that area of the business so we can progress our plans at the quickest rate possible. For instance ATPI have been outstanding at enabling our lads and Team Manager Simon Stead to get out to Australia. We are delighted at the overall outcome and to be able to give our young riders this invaluable experience."
We could not do this without the backing of our Great Britain partners and we will continue to focus on that area of the business so we can progress our plans at the quickest rate possible. For instance ATPI have been outstanding at enabling our lads and Team Manager Simon Stead to get out to Australia. We are delighted at the overall outcome and to be able to give our young riders this invaluable experience

Rob Painter, GB Speedway Team Managing Director