ROWE ROARS ON SGP2 DEBUT
ANDERS ROWE believes he is stronger mentally than ever before, after an impressive SGP2 debut.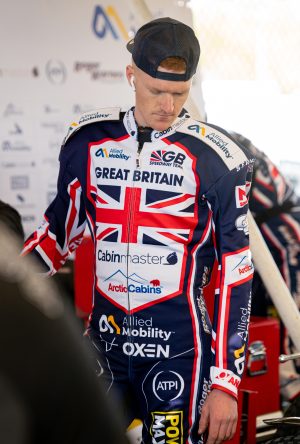 Image courtesy of Steve Hone Photography
The Swindon star was given a last-gasp call-up to the event in Prague on Friday night.
But he responded with a fine display reaching the semi-final in his first-ever world championship meeting.
He admitted: "I was at Poole on Wednesday and got the call just at the start of the meeting. That gave me about 36 hours to prepare and get to Prague for practice.
"There was a proper mad rush to get the bikes sorted and organise travel.
"It was a weird scenario to be honest because obviously just weeks earlier I was gutted not to make it through to SGP2 after a five-man run-off.
"That was in Vojens, it's a complicated system. I was really gutted after missing out.
"If I had scored one more point in the qualifying heats, I would have made it through without the run-offs.
"It was unexpected to get the call so I just decided to make the most of the opportunity. I went to have fun and just put the cat among the pigeons, and show what I can do.
"Hopefully I can get a wild card. That would be proper cool because I've shown what I can do and run with the big boys in the field."
Rowe is renowned for his determined character and he is adamant that his progress in Poland has pushed him on to bigger things.
He added: "The last couple of years I have become stronger. I was at Leicester in 2022 and struggled a bit.
"I wanted to go to Poland because that's where it is at. My goal was to make it work in their Under-24 league.
"I had to stand on my own two feet in Poland. I was practicing with the likes of world champion Bartosz Zmarzlik. I kind of started to man up being on my own.
"I'm starting to get my head sorted now, I'm mentally tougher. I used to crack under pressure before, now I'm having fun and that's really working for me.
"I went to Rawicz in 2020 during the pandemic. That was the best thing I ever did in my career. It totally changed me as a rider."
Rowe has been impressive for both Great Britain and Poole and believes he is in for a good 2023 campaign.
He continued: "Personally, signing for Poole has been brilliant so far. I've been really consistent and now banging big scores in.
"It's a winning team and a club with a great history. It's a good atmosphere, no pressure, but you want to get results.
"I've not done many GB meetings. I did well in Stralsund recently but had a freak mechanical issue which hampered my scoring. But I'm definitely on the right path."