Stead & Allen - Focused on youth
Great Britain bosses Olly Allen and Simon Stead believe the next generation can "step up to the plate" in the Monster Energy FIM Speedway of Nations.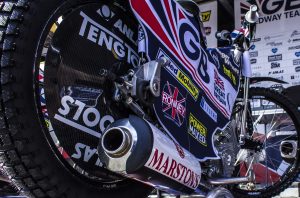 Image courtesy of Taylor Lanning Photography
The GB team were dealt a huge blow when three-times World Champion Tai Woffinden was ruled out of the finals in Lublin on October 16/17 following his horror crash and hand injuries.
With talisman Woffinden out of the equation, it is left to European Champion Robert Lambert, fourth-placed World Under-21 star Dan Bewley, British Under-19 champion Drew Kemp and British Under-16 champ Jordan Palin to carry GB hopes.
With Lambert at just 22-years-old, Bewley 21, Kemp 18 and Palin 16, it will be the youngest team on parade in Lublin by some margin.
Allen is adamant that the disappointment of losing Woffinden can be outweighed by a positive experience for the youngsters.
He said: "Naturally it is a massive blow to lose the current World No.2 in Tai. We would have been going to Lublin as one of the favourites for Gold. But this is sport, this is Speedway. You need to deal with adversity at all levels to find success. At some stage in the future we will need to get used to life without Tai, it's happened quicker than anticipated in this particular competition.
"However, we cannot sit around feeling sorry for ourselves. Far from it. This is a huge opportunity for heroes to be born and experience to be taken on. We believe this young team can step up to the plate.
"We must not forget that Robert is the European Champion, that was achieved in Poland earlier this year and he has had an excellent season. Dan has just finished fourth in the World Under-21 final and was top scorer in the Under-21 Team World Championship final.
"I don't see any reason why we cannot go to Lublin and get stuck in. We will continue the fight for a medal regardless. If you look down the years, this event has produced young heroes to win medals. We will have that attitude."
Stead also believes that Kemp and Palin will absorb priceless experience from being part of the team that travels to Poland.
He added: "We have been hugely impressed with both Drew and Jordan over the past few weeks and months. They have acquitted themselves with high levels of professionalism during a tough season. They will learn so much in Poland.
"We have a great deal of belief in our next generation of rides. Tai's injury has accelerated a chance for us to see what progress they have made and what more they need to learn."