The Bronze Brits: Dan Bewley
As captain of the Great Britain Under 21 Team, all eyes were on Dan Bewley to lead GB's charge towards a World Team Under 21 medal in Outrup, Denmark.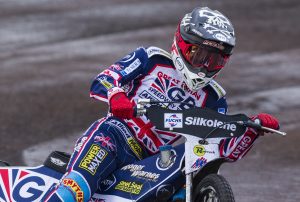 Image courtesy of Taylor Lanning Photography
One of three Brits riding in Poland's Ekstraliga (along with Tai Woffinden and Robert Lambert) the pressure was on for the Cumbrian to score big points.
He did just that, scoring 17 points in the meeting – more than any other rider – and helping GB to a Bronze medal finish behind hosts Denmark and eventual winners Poland.
This year's meeting was like no other with Corona virus taking over the world one day at a time but Bewley was impressed with how the meeting was handled from start to finish.
He said: "It was a bit unknown really with the restrictions but it all worked out pretty good. There weren't any complications and everything seemed to go to plan."
Bewley has been riding in Poland throughout 2020 and was therefore the only rider in the team who had some competitive action under his belt prior to the final.
But it could have been a meeting without him had an injury fallen at a different time.
Bewley said: "I'd been riding earlier in the season but I didn't actually get much preparation because I'd had eight weeks off with injury.
"That meeting was actually the first time back on the bike for me. I think I got about a week in the gym before it to try and get some strength in my shoulder."
Despite that injury and almost no practice time beforehand, Bewley went on to produce a sparkling performance.
"It was good, especially because I didn't know if I'd be able to ride." Said Bewley, "There's always a bit of doubt in your head when you haven't ridden for a while. To score so many points was a great bonus."
2020 was the first year without the now European Speedway Champion Robert Lambert in the Under 21 team and Bewley took the step up to being the team captain in his stride.
He said: "It was a great miss to not have Rob but we didn't have him two years ago at the same track and we still got a medal.
"Thankfully I was able to fill the role he did last year and we were still able to get a medal."
While he wanted Gold, Bewley recognises that 2020 came perhaps too soon for the GB team as a whole but he couldn't hide his disappointment in not winning the meeting in his last year at under 21 level.
Bewley said: "A lot of things would've had to go in our favour, we probably had a younger team than the rest of the teams.
"This year was my last year but everyone else still has a few years at this level so I think they'll all go better next year and the year after.
"Maybe it was too early for us to be thinking about Gold but everyone put on a good show and made the most of it."