Wright determined for more GB glory
Charles Wright admits he is determined to become the first pick for the Great Britain Team in the next Global Challenge Series event.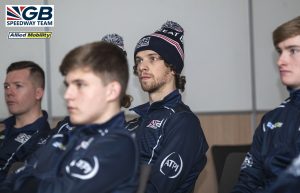 Images courtesy of Taylor Lanning Photography

The British Champion is waiting patiently - like all of the sport - to get going again following the Coronavirus crisis. But the gritty Stockport star is still keeping his focus fully on taking his career to the next level after his most successful season ever in 2019.
Wright also believes that forcing his way into being a permanent member of the Great Britain side is a pivotal part of his future progress. He said: "What is happening with Great Britain is good for us all. The Great Britain Management Team are working very hard to give us the platform and knowledge we need to go as far as we can in the sport, I enjoy all the extra elements they bring. I made a big decision during the Winter before the 2019 season to work very hard on my fitness. That was a major factor in my success last year. But all the different aspects to Great Britain just help me tweak my nutrition and psychology. With any issue now, we have backing and experience if we need it.
"I enjoyed the recent Performance Camp in Southampton, there's a bit more belief in the system after those events. Every one per cent you can gain from every area is vital at the very top level of any sport. I think I'm like most that it's very important to me to race for my country. I genuinely think it's a privilege. I don't see why I can't go up a level now and challenge to get into the Speedway of Nations team for Great Britain. I will put all my concentration into doing well for Belle Vue and Redcar and see where that takes me.
"The SoN final is at Belle Vue. Obviously we are not sure when everything will get going again. But if and when we do, I need to prove myself. You have to aim high and set the bar as high as possible. My target is to reach the Grand Prix series and get into the Great Britain SoN team. There's no reason why I can't take that next step."
I enjoyed the recent Performance Camp in Southampton, there's a bit more belief in the system after those events. Every one per cent you can gain from every area is vital at the very top level of any sport.

Charles Wright, British Champion
Wright has been working harder than ever on his fitness during the enforced Covid-19 break to keep his mind and body sharp. The defence of his British Championship is due on June 22 but that would seem unlikely at this stage with lockdown unlikely to be lifted until mid-May and no mass gatherings for the foreseeable future thereafter. Wright could well end up being the longest-reigning British Champion since the first time it was held in 1961. But right now his only concern is how his fellow riders and clubs will deal with such a long lay-off from action. He admitted: "It's going to be a very long three months or so for riders and Speedway clubs. This is a brilliant sport, one of the most exciting in the world, but I think everyone will be finding it very tough. "Don't get me wrong, I have no argument whatsoever with the decision. We are in extraordinary times with Coronavirus and the safety of people comes first."