ALLEN PRAISES "UNITY"
GREAT BRITAIN boss Olly Allen praised the "unity" of the squad after reaching the World Cup final.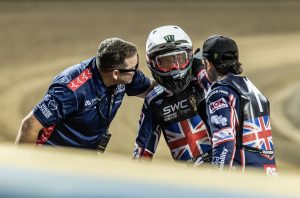 Photography courtesy of Taylor Lanning Photography
The national side comfortably booked their place in Saturday's showpiece Final with a strong display to win the first Semi on Tuesday night.
Now Allen is confident the side will remain focused for the job in hand at the Olympic Stadium in Wroclaw.
He said: "It was a solid night, job done. But overall I was very happy with the dynamic of the group, the spirit and the unity.
"We will need all of that and a bit more on Saturday night to get amongst the medals.
"The boys did a fantastic job. Tai as captain has been really good since the squad was announced.
"The Wroclaw boys - Tai and Dan - have shared as much information as they can. Everyone has worked as a team.
"We expect our top three riders to do very well. Adam had a lot of pressure on him and he won a very important Heat 1 to get us in front, that was a great win.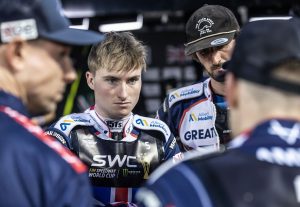 "When Tom came in at the end I think he looked quick considering he'd not been out all day. I was really pleased with him.
"We just need to stay focused. The riders have got a job to do in one more meeting."
Allen also revealed that the squad are fired-up by the return of the World Cup five-man team format.
He added: "I think this World Cup is a good format. It opens it up to teams who have more strength in depth.
"Speedway of Nations has been very good for us because it's mainly been two or three riders.
"But it's good to rotate the format sometimes and we've worked very hard to get strength in depth and we've got that now.
"I've always liked the World Cup week. So it's good for the fans and the team enjoy it too."