ALLEN - WORLD CUP FOCUS
GREAT BRITAIN joint team boss Olly Allen insists his side are looking even stronger for the highly anticipated return of the Speedway World Cup.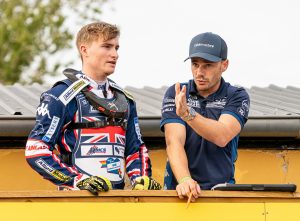 The national side have delivered outstanding results over the previous five seasons with a huge medal haul including Gold and two Silvers in the Speedway of Nations.
But now the focus switches with the return of the Speedway World Cup for 2023, with the week long event taking place in July in Wroclaw, Poland with a five-rider GB team.
Allen believes that makes them potentially even stronger. He vowed: "We've got three riders in the top eight in the world. Then we've got Adam Ellis who is of international standard.
"If we turn up on the day and our top three are fit and deliver their potential and then say Adam and Tom do their bit, we are well in with a shout of another Gold medal.
"The goals are still the same. We don't turn up to make up the numbers. We go to the World Cup to try and win. I know Tai, Robert, Dan and the other boys will feel the same."
Allen also confirms that the World Cup gives further opportunities for new names to make the team.
He said: "The World Cup format does create a new challenge for us. It was fairly certain who our three were going to be last year for the Speedway of Nations.
"Providing there were no injuries it was always likely to be Tai Woffinden, Robert Lambert and Dan Bewley.
"It was unlikely that anyone else was going to overtake those three. We welcome it if they did, but it wasn't likely.
"So this year you are looking at a bigger team. The top three are likely to carry on in the team. But the next couple of spots are open to anyone. At this stage Simon and I don't rule anyone out at all.
"I think it's a really big year for Adam Ellis. He seems focused and dedicated to push on.
"He's got a raw talent, it's just piecing it all together. He puts the effort in. He just needs the right formula and has so much potential. I really hope he lives up to that."
Tom Brennan has emerged as a strong contender after winning Gold in the 2021 SoN and finishing second in last year's British Championship.
Allen added: "Tom has made big strides over the past two years. He needs to continue that upward curve.
"If he can continue to improve at the rate he has, he can also be knocking on the door.
"Then you've got a group of more senior riders; Chris Harris, the Worralls, Charles Wright and Richard Lawson.
"They are all people who can throw their name in the hat. We don't rule anyone out. I think Steve Worrall and Richard have signed for Polish clubs, that shows a desire.
"For them to perform consistently on the world stage, they do have to ride regularly abroad.
"It will purely be a case of picking the on-form riders at that stage of the season."
Allen says he and co-boss Simon Stead want to see the right attitude from riders bidding to get a World Cup spot.
He continued: "The European events for GB are so important and always have been. They are a great barometer for other riders outside of the top three to say 'I want to do those events and I'll show you what I can do'.
"I think over the past two years those Euro events have been really good for Tom, they have elevated him to a new level.
"I want the Worralls, Wright and Lawson - if they are going well - to show me the hunger to be part of GB.
"I truly believe, and I won't change my opinion on this, when you ask someone to ride for Great Britain in a key event, the first question they should not ask is 'how much am I getting paid?'
"I never did that nor did Joe Screen, Gary Havelock, Scott Nicholls, Chris Harris. There's an awful lot to be said about the riders' attitude and keeness to represent Great Britain."