Anders eager to get back racing
With a first SGB Premiership campaign curtailed by the global Covid-19 situation, Anders Rowe can't wait to start racing again as he aims to continue his good form from 2019.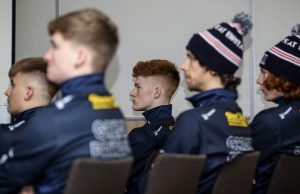 Image courtesy of Taylor Lanning Photography
The 18-year-old will put on the Swindon Robins Kevlar's for the first time and will be racing alongside 2017 Speedway World Champion Jason Doyle in what he sees as a golden opportunity for learning as a rider.
He said: "It's come a lot sooner than I thought it would but I've got to show what I can do and take the opportunity with both hands. It'll be great to have experienced riders like Doyley (Jason Doyle) alongside us in the pits to learn from as I make mistakes as a youngster. They can help me out with setup or where I'm riding on the track to help me score more points. Moving to number two at Somerset helped move me along more than if I'd stayed at reserve, I'm racing better riders and learning a lot more from that and that's helped me be ready for the Premiership."
Rowe was perhaps unlucky not to be selected for the World Under 21 final which took place in Manchesters National Speedway Stadium but he was fully aware of his lack of track knowledge compared to those who rode that day.
He said: "I knew I'd only ridden Belle Vue a couple of times and the others had more track time there, so it didn't bother me all that much because I knew if I kept working as hard as I had been I'd get my chance."
He was also overlooked to go out to Australia over the winter as many of Britain's young hopes did but Rowe believes that may have been beneficial for him.
Rowe said: "I wanted to go but I wasn't too fussed as I'd done more meetings than most of the young riders. I also wanted to pass my driving test as soon as possible while I wasn't racing so I don't need to rely on my dad having a day off work to take me to training days and meetings. So even though I didn't go, I got a lot achieved here in that same time. No one gets to see what goes on behind the scenes with bike cleaning and maintenance. We can't afford to get a mechanic so my dad has to help me sometimes, that's the main reason I wanted to get my driver's license so he didn't have to take days off work to drive me around."
Looking ahead to 2020, Rowe has already been on the bike a few times as he prepares for what could be an October start to the Speedway season. He is very keen to continue where he left off in 2019.
Rowe said: "I thought I'd forgot how to ride for that first time out but couple of go's and it was back to normal. 2019 was really good for me, I was banging in 14's and 15's for Kent in the National League. I thought riding for Somerset in the Championship would have been easier than it was, the racing was really tough, but I found my feet after a few weeks and I was scoring 8's and 9's at number two which was great."
Rowe is also involved in GB Speedway Team's biweekly online Zoom sessions and spoke highly of their benefits.
"If we didn't do the sessions, we'd lose everything we'd built up beforehand." Said Rowe, "And it's really good to be interacting with everyone while we're all stuck at home. I hope to just have a solid season, progress to heat leader at Somerset and learn as much as I can off the established riders at Swindon. Above all that, I just want to be racing my bike and having fun."