Back On Track: Anders Rowe
Out of the crowd of Great Britain's many talented youngsters, 18-year-old Anders Rowe has risen to the elite level of British professional Speedway over the last two years.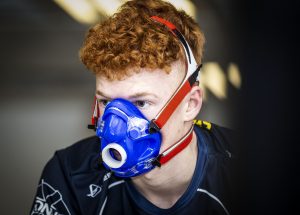 Image courtesy of Taylor Lanning Photography
And while his team place at the Swindon Robins for the 2021 SGB Premiership season has been lost due to the Wiltshire team pulling out, he is still on course to make a name for himself. The news of Swindon's decision came at a unique time in his life too as he lay in hospital.
Rowe said: "I'd been around Swindon for a few years and it was a track local to me so it was quite a shock for me with them having pulled out this year.
"My dad got the phone call while I was in hospital having my appendix out and it was a kick in the teeth given that I was already in the team.
"I was quite lucky that the operation went well. I had a lot of pain in the evening and I tried to go to sleep but it was too much.
"My parents took me to the hospital at 4am or something like that and I was fortunate that I could have the operation and be home again all within a day."
Despite all that, Rowe is still on course to make his Premiership debut this season having been picked up by the Ipswich Witches to be their second reserve alongside fellow GB under 21 star Drew Kemp, who was chosen as the Witches' rising star as an asset of the team.
"Me and Drew have our rivalry being the same age." Said Rowe, "We're all aiming for the same thing but I'm looking forward to riding with him at reserve.
"We've got a really good team at Ipswich with Crumpy (Jason Crump) coming back and Danny King as well.
"I've never ridden at Ipswich before so I really want to get going and get racing to help Ipswich towards the playoffs."
But it's not just here in the UK that Rowe will be racing, the youngster will also have commitments in Poland with Rawicz but he understands that the current Covid situation in Europe could curtail some of his planned meetings.
Rowe said: "I'm meant to be racing for Rawicz in Poland but we've got to wait and see what happens with Covid.
"We've got a few challenge matches planned so I want to get to as many of those as I can and try and race as much as I can."
"I was really fortunate last year to get that chance, when I got to Leszno they told me I was the eighth busiest rider in the world just doing the UK in 2019 when I did 89 meetings."
"I was taking any guest booking I could get and I was looking forward to the jump up to the Premiership but going to Poland was a massive eye opener.
"I'd never been to Poland and everything I saw changed me as a person and my riding style completely changed too. I took my English engines out and on the first day I blew them both up!"