Back On Track: Drew Kemp
2021 is set to be a big year in the career of young GB star Drew Kemp as he aims to assert himself as the leading Under-21 rider in the country.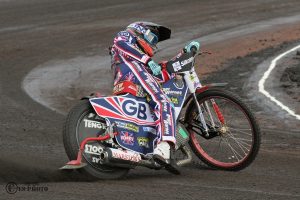 The 18-year-old will make his debut in the SGB Premiership this coming May for the Ipswich Witches as well as head to Poland for his first taste of European league racing with Gdansk.
Kemp admitted that being selected as the Witches' rising star didn't come as too much of a shock.
He said: "I suppose I did expect it, I've been in talks with Ipswich throughout the winter and I think it was a simple decision for them.
"Teams ideally wanted to keep the same seven where they could that they had last year so I was confident I would be in the team early on.
"It's great for the team and myself that I get the chance at Premiership level and I can test myself against the best riders in the country."
He will have plenty of experience to draw from in that Ipswich side with former British champion Danny King and three-time world champion Jason Crump alongside him. The teenager is all ears in his attempts to learn and improve off such high quality riders.
"I'm hoping to learn anything I can," said Kemp, "Danny's done it all at British level and raced at Cardiff.
"Everyone knows what Jason has achieved in Speedway so I want to take on board everything he says because his level of Grand Prix racing is where I want to be."
Kemp hasn't experienced league racing in Poland before so this year will be all the more challenging as he tries to adjust to two new leagues in separate countries.
But with new equipment and a fresh mindset, Kemp believes he is as ready as he'll ever be.
He said: "I'll be racing for Gdansk in division one in Poland but I'm not quite sure what to expect out there to be honest, it'll be an eye-opener for me.
"I've never raced in Poland full-time before so I've got myself a couple of new engines for going out there and I think I'm as ready as I can be both mentally and physically.
"I downloaded a language app with all the intentions of starting to learn Polish but I did it for about 20 minutes and I haven't been on it since. I might have to learn quickly in the van over there perhaps."