Back On Track: Jason Edwards
Preparations for a long-awaited return to the shale continue for many Speedway riders across the UK and Jason Edwards is no exception.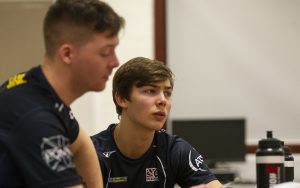 Image courtesy of Taylor Lanning Photography
The teenager is getting himself ready for a first season in the Championship with Eastbourne having missed the chance in 2020 due to the season's curtailment before the tapes were lifted.
But continuity will help Edwards start strong when racing begins in the Summer.
He said: "Last year was going to work perfectly with Saturday and Sunday races and it should be the same this year with Eastbourne and Mildenhall.
"I'm looking forward to learning a lot in the Championship and getting to ride many different tracks and test myself against different riders too."
Eastbourne will have two teams racing in 2021 with a new National League team taking to the track but Edwards will be racing against that new team with Mildenhall.
Eastbourne aren't the only club to have added a second team over the off-season but more teams can only be a good thing in Edwards' opinion.
"I was a bit surprised with some that added a second team but for us riders it's brilliant." Said Edwards, "The more teams we have racing the more chances for us to get team rides and guest appearances throughout the year and there's more to watch for fans too.
"At the moment I just want to get to any track I can but I focus more on who I'm racing against rather than the track I'm on. With riders like Jason Crump coming into the league, it's exciting to be able to go up against them.
"You never think about it when you're up at tapes but you definitely realise after the race and you watch it back who you've just raced."

While racing in European leagues is the long term goal for Edwards, doing so in 2021 is looking unlikely but he hopes that a good season may increase his chances later in the year and heading into 2022.
He said: "I've not got any plans to race abroad this year but I think it's still a year too soon for me, maybe later in the year I will look to get out for a few meetings but I know I need to take things slowly and not go too far too soon.
"We've had discussions about it and GB have been brilliant with us answering questions and giving advise but I've got to develop at my own pace."