Back On Track: Leon Flint
Preparations for a much-anticipated 2021 season are already in full swing and riders throughout the country will be hoping to stamp their mark on the shale when the tapes rise in the Summer.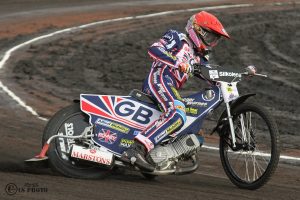 One of Great Britain's Under-21 riders Leon Flint is set for his most important year on a Speedway bike as he prepares for league racing abroad for the first time.
Flint will be racing for KS ROW Rybnik and he is looking to gain every ounce of experience he can during his time in Poland.
Flint said: "Towards the end of the '2020 season' I remember watching Anders (Rowe) come back from Poland a totally different rider and how much it benefitted him.
"We basically contacted everyone saying: 'I'm looking for a club, would you be interested, what can you offer?' and I was very surprised with the amount of interest.
"Most of the deals though would've only worked if I was living in Poland, but they weren't good enough to pay for a full-time mechanic, bikes, a workshop and all the rest.
"I've been involved with Rybnik in the past and we came to a good agreement, hopefully we can get to a position where it doesn't leave me in any kind of financial issues."
Alongside his Polish commitments, Flint will be riding for the Berwick Bandits in the SGB Championship and he will also be racing for their newly formed 'Bullets' team in the National Development League.
"I was very disappointed to not be involved in the Premiership but I'm going into this year with a whole different mindset. Previously I would've been feeling sorry for myself about not being picked up or even contacted but the new me is using it as motivation to prove me right more than prove them wrong."
"Maybe if my performances are good I can get some seat time in the Premiership but I'm most looking forward to getting back riding frequently again."
That disappointment in missing out on a rising star spot in the Premiership would have been tough to take at any time but Flint says that a new perspective means he took it all in his stride.
He said: "This past year has made me realise I don't want to just settle for this, I want to go out and achieve great things.
"I think most of my career up until now I've been bigged up too much and that's made me think I was always going to be this great rider and it's not that easy.
"I'd like to think I've put on my own two feet now and I think that's made me a better person and given me perspective.
"I'm getting on really well with my Dad and Grandad where in the past we'd be at each other whenever anything was mentioned but we're all working together to make the best of it."