BATTLING GB WIN
GREAT BRITAIN boss Olly Allen was delighted with a battling win in the FIME European Pairs.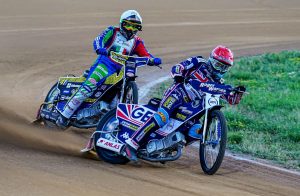 Images courtesy of Steve Hone Photography
Adam Ellis, Chris Harris and Tom Brennan delivered a 21-point haul to take victory in the event in Macon, France.
GB outgunned Sweden on 20, Norway 16, Italy 14, France 11 and Holland 8 in a hotly-contested international clash.
Allen said: "I was really impressed with Adam Ellis, he was the outstanding rider of the night. Not just with Great Britain but with all the riders in the field, he was head and shoulders above the rest.
"It was really good for him individually because he's looking forward to the British Final on Monday, this was his last meeting before then.
"Tom struggled to start off with but ended with a really positive last ride when we needed it most.
"We were working with him throughout the meeting and it worked really well in the end, so I'm really pleased with him.
"Chris was typical of him, he wasn't gating but he got stuck in. He got the job done and always brings so much to the party."
Great Britain will now take their place in the final in Slangerup, Denmark on August 27.
Allen also had special praise for Brennan who produced a final ride win to clinch victory.
He added: "It was a tough track. It's very simple to ride which makes it a great leveller if you don't make consistent starts. It wasn't an easy event for our boys.
"The continental experience Adam has now was the key for us. That's where we had the breakthrough with Tom.
"There was a technique we used for continental tracks and in the last ride it definitely clicked for him.
"It was a bit of a juggling act to get everyone out on track. We need to bring a reserve to these events in case something goes wrong. But you also don't want to bring someone out here to do nothing.
"It is important for Great Britain long-term and the development for Tom to get track time.
"Going into our last ride we had qualified in the top three but a 5-1 meant we won the meeting. The easy option was to keep Adam and Chris in. But I didn't want Tom to go home feeling like he was.
"But it was excellent that Tom and Chris picked up the last heat 5-1 so the gamble paid off."
_____________
Great Britain 21: Adam Ellis 12, Tom Brennan 5, Chris Harris 4.
Sweden 20: Victor Palovaara 12, Mathias Thornblom 8.
Norway 15: Glenn Moi 11, Lasse Fredriksen 4.
Italy 14: Paco Castagna 13, Daniele Tessari 1.
France 11: Mathias Tresarrieu 8, Jordan Dubernard 3.
Holland 8: Mika Meijer 8.