Behind The Scenes: Chris Neville
The riders are only one aspect of the Great Britain Speedway Team. The unseen work that goes on away from the shale keeps the team going on a day-to-day basis and helps those riders perform at their highest level.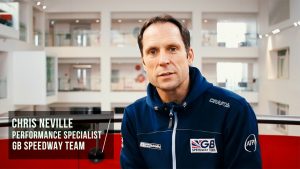 One of those who help to drive the team forward is GB Performance Specialist Chris Neville. He is one of two performance specialists in the team alongside Jeremy Holt – who will be the focus of next week's feature – and focuses on the physical element of Speedway to help riders be race ready for their biggest events.
"It's a fairly broad role really," said Neville, "defining performance can be seen in lots of different ways; physical, tactical, technical.
"My role is more around the physical side of things with sports science, strength and conditioning kind of thing which is where I came into Speedway from.
"I tried to keep it really vague to start with because I didn't know Speedway that well. I had watched it from a young age but it's a different perspective from the other side of the pit wall.
"For us, performance is about developing a process that the riders can buy into and see there's an end goal to it."
Neville has been working alongside Holt since the latter joined the team in 2019, and the duo have struck up a strong working partnership which is rubbing off on the riders.
He said: "I've known Jeremy since I was working in football. He developed a model around team culture and team identity as a psychologist.
"Both physical and psychological go hand in hand one without the other is only half the story.
"We work very closely together with what we do and the riders have been really receptive to the cultures we've tried to install."
Neville himself has been with GB since 2017 and as a lifelong Speedway fan, he couldn't turn down the chance to join up with the team.
He said: "I've always been a motorsport fan. I've watched Speedway since the early 80s when it was arguably a bigger spectator sport. I left full-time football in 2017 and I've always seen a huge opportunity in Speedway.
"I saw a gap where Speedway could learn from other sports. We held our first GB Performance Camp down in Southampton in February and we drew on some of the expertise from other sports that pair man and machine.
"We were fortunate to be joined by guys from INEOS Racing (America's Cup Sailing Team) and McLaren F1 and they've had the same challenges as us in creating a machine and having a rider or driver go in or on it to go fast."