Behind The Scenes: Olly Allen
Being a Team Manager means making tough choices and – occasionally – upsetting people, but none of that has fazed GB Speedway Team's Olly Allen who says he wanted the role from the moment he shut his own 500cc engine off for the final time.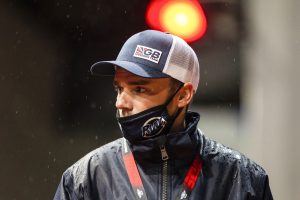 Image courtesy of Taylor Lanning Photography
The former Kings Lynn, Peterborough and Coventry rider (among others) is joint Great Britain Team Manager alongside fellow ex-rider Simon Stead and the two have had all kinds thrown at them since they took over from Alun Rossiter following the conclusion of the 2019 season.
"When I took the job on, I couldn't wait to get started," said Allen, "It's not something I thought about when I rode but as soon as I retired it was a job I had my eyes on.
"I was really excited to start and do the job how I felt it needed to be done and that meant developing a rapport with the riders and going out to watch them.
"And then last year that all got taken away from us which sounds selfish because the riders lost a lot more than I did.
"So I really hope that come May, we have the vaccine rollout going and I can't wait for the racing to begin, especially with a few Premiership tracks fairly close to me."
October's Speedway of Nations was the first major event under Allen and Stead's control and a combination of injuries and a lack of riding owing to COVID-19 meant selection, and the meeting itself, was not a simple start.
Allen said: "In each race, we put out our two best riders available to try and give us the best chance. Both Dan (Bewley) and Robert (Lambert) were riding in the Polish Ekstraliga and riding well too.
"Drew Kemp was our number one Under 21 rider we felt having ridden well in Europe the year before and we also took Jordan Palin along, more for the experience and for him to learn. He was never likely to get a ride unless we had more injuries."
"The boys rode well, the track was tricky and their attitude was exemplary because they were the only team not to moan about track conditions, which makes our job easier.
"Robert knows he made a couple of mistakes and we all know that he'll learn from that and come back stronger.
"And as for Dan, he passed (Bartosz) Zmarzlik in race one, and no one passes him really so that was a great ride. But maybe we needed some experience on a night like that but I wouldn't change what we did."
But 2021 is looking far brighter with fixtures being announced ahead of the British season's proposed start in May as well as a home Speedway of Nations Final at Manchester's National Speedway Stadium in October.
Allen said: "I haven't thought about it much yet, it'll be harder this year in terms of selection because last year you could've picked the team before the season started, injuries aside.
"But this year, Dan isn't an under 21 anymore so he is now a senior; Craig Cook's attitude has been phenomenal and there's no reason he can't force his way in with a good season as an ex-GP rider.
"Dan's only getting better, so is Robert which makes picking a side difficult and then the under 21 spots are slightly less clear too, at the moment it's Drew, but there's a whole season of racing to come before then with Jordan and Tom (Brennan) showing good form too."