Behind The Scenes: Paul Suggitt
While all eyes are on Tai Woffinden and the very best of British Speedway, there has been tremendous work done to help the next generation of GB stars forge a career on shale.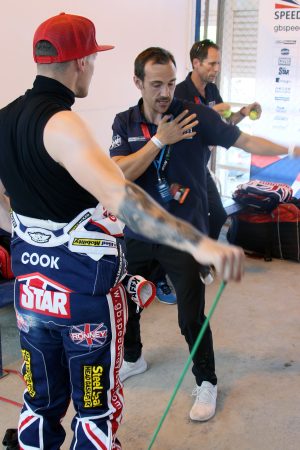 Leading the GB Speedway Team Academy fitness regime is Fitness Specialist Paul Suggitt who previously worked with GB Team Manager Olly Allen for a number of years.
The two first worked together while Allen was still riding professionally for Peterborough and over in Poland and it was through him that Suggitt got involved with the National Team.
He said: "I was a personal trainer at a gym local to me when Olly Allen recruited me as his trainer when he was riding in Poland and for Peterborough.
"So I did that for a few years and then he said I should come along and work with the British guys because there was nothing in place to help riders like that and he thought it would be really good.
"I went and met Rosco (former GB Team Manager Alun Rossiter) and went and did a training camp in Croatia with some of the guys and it all started from there.
"When Chris (Neville) joined, he sort of took the lead with it and I stepped back a bit and now I'm the academy lead for the youth as part of the GB Academy Programme"
2020 provided its fair share of challenges for everyone and that applies to the Great Britain squad as well, with a reduced racing calendar leaving some riders with extra time to fill.
But thanks to the work of the GB Speedway Team staff, those riders were kept busy with Zoom fitness sessions among other activities.
Suggitt himself also continued to work for the team as he sourced workout equipment for riders to use in their garages while the gyms were closed during the first lockdown.
Suggitt said: "The GB side is personal training and fitness coaching, and an arm of that is sourcing equipment for people.
"So with gyms being shut I've been putting equipment in and making gyms in people's garages and converting them."
"It's been a very quiet year and we haven't had that many meetings but we do keep in touch with the riders.
"I was doing online Zoom sessions throughout the summer with the GB Academy lads and Rob (Painter) would join us to see how the guys were doing.
"Their results can be defined by the work they've been doing through the winter and of course how they are riding, but from the Under 21s, Jason Edwards is one to watch and Drew Kemp has now basically gone into the Seniors.
"Jordan Palin was really impressive along with Edwards and Dan Gilkes as well but they've not had much riding and that's what they need now."
The unique nature of Speedway means that riders aren't exclusive to one team or organisation and that can make working with riders difficult when they are wanted by multiple parties at once.
But those in the GB Academy have really impressed Suggitt and he is delighted with how the academy has progressed along with the riders within it.
He said: "With Speedway in general being so individual based with not much framework for anybody to follow it's all left for the riders to do it themselves, the only support they often have is from family.
"So when we started working with them at 14,15,16 years of age, the foundation skill was quite low if I'm honest from a fitness side.
"Over the first year there is a big culture shock of providing high-level professional coaching to a junior but then from the second year it was phenomenal, they got that foundation base in there and really pushed themselves.
"You look at someone like Drew Kemp who from the start took it all onboard and really excelled."