Behind The Scenes: Simon Stead
As Co-Team Manager of Great Britain, Simon Stead knows how important having a strong relationship with those around you is when it comes to success.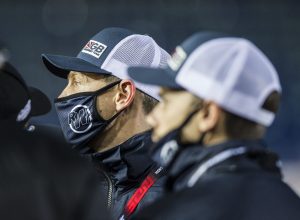 But Stead has history with fellow GB manager Olly Allen that dates all the way back to their childhood.
Stead and Allen have affectively been best mates since they were just eight years old racing against, and alongside, each other way before they both made the grade in professional Speedway.
That bond has helped the duo greatly since taking over the role from Alun Rossiter at the end of 2019 and it will only continue to help going forward.
Stead said: "Olly and I have had such a great relationship ever since we were eight years old in junior grass track, we've probably been best mates for 30 years or so.
"There was an annual event in grass track, junior pairs and Olly and I would always pair up together so six weeks holidays in Norwich for me and vice versa for Olly in Sheffield were quite regular."
"We already had that relationship so it was actually very easy for us when we started because we knew each other and I think that has benefited our lads."
2020 was Stead's first year in charge of the GB Team and the obvious circumstances faced by everyone meant it wasn't quite what the 38-year-old had in mind.
"It was different to what I envisaged being mine and Olly's first year in charge." Said Stead, "But it did enable us to put solid foundations into place and have a better structure.
"I think it lacked that in previous years and what we're trying to do along with the rest of the GB management team is create a clear pathway for our younger generation to see how they're going to progress through the ranks and get involved to give them the necessary support."
The uncertain season didn't help the team's preparations for the Speedway of Nations and paired with a late injury to captain Tai Woffinden, Allen and Stead had little choice but to select some of the younger riders to rise to the occasion, although the focus of many has to divert towards the youth to sustain the future of the team.
He said: "There has to be a focus on how we're going to develop the riders and our hand was forced a little last year with the injury to Tai but you can't buy experience, you just have to throw them in at the deep end sometimes.
"The restrictions imposted for Speedway of Nations were by no means ideal but it was the same for everyone. We couldn't have key members of our performance team, Chris (Neville) Jeremy (Holt) or Steve (Williams) there which we would have done but we did as well as we could do under the circumstances.
"Robert wasn't happy with how he rode on the night but he stepped up massively because Tai Woffinden's boots are not easy to fill and Robert did his country proud."
Those future's are helped further by the new Rising Stars programme which guarantees each Premiership team has one young, British rider in their team every season.
On the new programme, Stead added: "It's great to see the BSPL putting something in place. We think that, alongside the GBST Academy, riders now have much more support available and conversations are ongoing with the BSPL as to how we can work together to help our younger generation."