Behind The Scenes: Steve Williams
Injuries are a part of any sport and Speedway can see some of motorsports most frequent and often severe, that is why such a demanding sport requires the very best in treatment.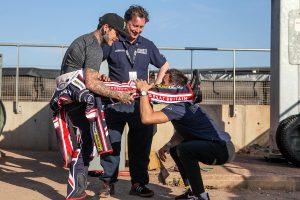 GB Speedway Team are no different, with highly talented physiotherapist Steve Williams looking after the battered and bruised Brits when injury strikes.
And even though 2020 saw no league racing here in the UK, that didn't mean Williams was without a bit of work with Brits riding abroad.
He said: "It was certainly different last year, with not much going on in the UK but there was racing in Europe.
"So I didn't expect much to be going on for me but then Dan (Bewley) popped up because he picked up an injury when he was in Poland.
"I'm used to getting phone calls from Poland nowadays and elsewhere too. I remember Tom Brennan had gone to Poland to practice for the Under-21 Team Final in Denmark and he broke his collarbone and needed surgery over there.
"He came back and we thought 'well this needs five weeks to get better' but he told us 'no I need to ride on Saturday'."
Bewley is a rider Williams has seen quite a few times over recent years especially after his big leg-breaking crash for Workington in 2018.
But his determination to recover and go on to improve impressed the GB physio.
"I had quite a lot to do with Dan's recovery." Said Williams, "He actually fractured his humerus as well in that accident.
"Dan's a good example of the dedication of a Speedway rider because he lives up in Cumbria and he came to see me for treatment in Birmingham.
"It's a nice compliment for me when he travels 206 miles each way to come and see me, and with that you develop a nice relationship with them because they're putting their trust in you."
Being based in the West Midlands means he isn't just round the corner for most riders but his expertise is still utilised by the British contingent when they are racing elsewhere in the UK or even Europe.
Williams said: "Sometimes the riders come directly to me at my practice in the West Midlands but sometimes I can only be an advisory sort of role because they're off riding here, there and everywhere.
"I'm there often to point them in the right direction. But because they're riding for many different clubs, they're usually left to their own devices.
"The first sport I worked in was non-league Football, I then went on to Basketball and then Ice Hockey.
"It's a case of the sports I've been involved with have gotten tougher each time so it's quite funny when you have a Speedway rider with an injury which is average to him, but catastrophic for a footballer."