BEWLEY READY TO BUILD ON GOLD GLORY
Dan Bewley has vowed that Great Britain can and will build on their dramatic Speedway of Nations success.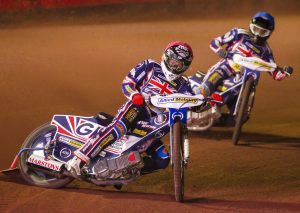 Images courtesy of Taylor Lanning Photography
The Cumbrian was a pivotal star of the gold medal glory delivered at the National Speedway Stadium last October.
But Bewley, 22, now says all the focus is on the future as the national squad kicks off its calendar with an Academy Performance Camp in Bicester this weekend.
He said: "It was a huge achievement for us, a gold medal is a big thing, fair play. For me, I feel like I'm a few years off building a trophy cabinet yet. I've just got to keep going in the right direction."
"I'm more focused on 2022 and beyond than looking at a medal. I'm also keen on 2023 for the World Cup coming back."
Bewley was drafted into the Speedway of Nations after injuries sustained to talisman Tai Woffinden on day one in Manchester. He produced an excellent performance to win gold with Robert Lambert and Tom Brennan with a final win over Poland.
He added: "It was just the way sport goes. Obviously for Great Britain it was important to show we didn't just have two good riders, we had four. In years gone by people would say GB only had one rider. Now let's hope we are moving away from that a bit and making people more aware of what we are capable of.
"Getting the win at Speedway of Nations was a big moment. It shows that we can win.
"Previously there was perhaps an acceptance that silver or bronze was a good result. Now we've shown that gold is the very best. Nothing else is going to compare to it unless you get gold again. It sets standards and keeps it very high which to me is very important."
There's little doubt the Great Britain revolution under VRX Motorsport is paying dividends in mentality, fitness and now success.
The GBST Academy has been backed by many top brands like ATPI and Rentruck from its initial days as No Limits training days.
Now it's up to the next generation to take inspiration from the Speedway of Nations glory.
Bewley continued: "It's the same for every rider, if they want success, they'll work hard to get it. It's down to every individual to show the desire and all-out workrate to get to the very top.
"I'd obviously like to see more riders come through. There is another generation coming through which we have seen with Great Britain, and they have been with this crop right from the start really.
"But so many other countries have got youngsters as well like Poland and Denmark. It will be interesting to see how they progress."
Before the 2022 campaign truly kicks in, Bewley has been keeping fit with as many days as possible on his motocross bike.
He said: "It keeps me fit. I'm riding with top motocross and enduro riders, Jamie Ward and Jonny Walker, they are mates of mine. They are much fitter than any speedway rider is.
"We've actually been in Scotland the last couple of weeks in Stranraer and Elgin so it's been pretty cool to be riding constantly."