Breakthrough 2019 leaves Edwards buoyant for new season
17-year-old Jason Edwards enjoyed a fruitful 2019 season in both the SGB Championship and the National League which saw him called up to represent GB Speedway Team in January's two test series against Australia.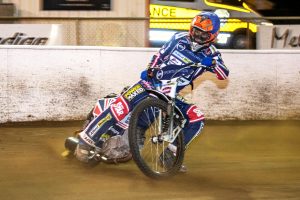 Image courtesy of Jon Gall Photography
The worldwide COVID-19 crisis has done nothing to dampen the teenager's spirit after impressing down under and all this after balancing Speedway and exams for the first half of the 2019 season.
Edwards explained how the teams he rode for fitted perfectly into his life.
He said: "I had my exams at the start of the year so a lot of the time was spent trying to fit around that and luckily it fitted perfectly riding with Mildenhall it was Sunday night racing and then when Eastbourne signed me it was Saturday's.
"There were two or three times I had exams on the Monday after a weekend of racing but luckily they were all in the afternoon so I had a little extra time to revise!"
Heading down under was a big challenge for Edwards who spent only half the time of most of GB's riders in the Aussie heat but that didn't stop him from learning an awful lot both on and off the track as well as riding against his idol Jason Crump.
Edwards said: "Getting the chance to go out to Australia with GB, it was crazy riding in those kind of meetings and against that level of rider. Especially that first meeting where I scored nine points and getting a 5-1 with Tai (Woffinden) it was just mad. I remember going out there and the team was a lot different with (Rohan) Tungate and (Sam) Masters but for whatever reason they pulled out and it ended up with Crump riding.
"That was really special for me because he was the rider I wanted to be like growing up, maybe because we have the same name or something like that. Just to ride with him having gotten photos and autographs from him when I was little was special. There was one race at Pinjar Park where I wasn't too far behind him and that was so cool in itself, I was really happy with that being able to just watch him and learn from him.

I want to make a claim for myself to be the new Under 21 in GB too with Dan (Bewley) moving up next year. I believe I can prove that I'm one of the top riders in the Under 21 group and I want the management team to see that too.

Jason Edwards
"It was just a good different experience and it was the small things like when you're doing bike washes how quick the stuff dries, it takes no longer than 10-15 minutes and you can get it straight back on the bike again."
Heading into 2020, Edwards is confident of another good season, but he's well aware that he needs to take each step as it comes and isn't getting ahead of himself.
"I just want to hit the ground running really, trying to get out of reserve at Eastbourne and being the number one at Mildenhall and improving myself race after race.
"I want to make a claim for myself to be the new Under 21 in GB too with Dan (Bewley) moving up next year. I believe I can prove that I'm one of the top riders in the Under 21 group and I want the management team to see that too."