FOCUSED BRENNAN
TOM BRENNAN admits Great Britain face a "huge task" in the FIME European Under-23 Team Championship Final.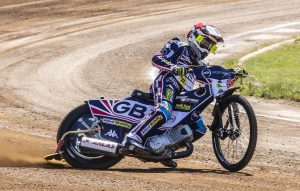 Images courtesy of Taylor Lanning Photography
GB go to Tarnow on Sunday to take on hosts Poland, Denmark and Sweden in a high-class line-up. Double Grand Prix winner Dan Bewley leads the Brits with Brennan, Leon Flint, Drew Kemp and Jason Edwards.
Brennan said: "It's a huge task, that's for sure. But we are up for it and all the boys know what we are capable of. "Obviously Poland are red-hot favourites on home shale. Sometimes that can also work against teams as well.
"We go to Tarnow with an open mind. Like always we will aim for gold and always a medal whatever happens. "I think recently we've been getting stronger all the time. Over the past four seasons our results have been improving.
"These meetings are always such good learning curves for all the young members of the team. "I've gained so much from racing in Europe constantly with Great Britain. That has definitely started to show in my scoring in the UK and Poland."
Bewley was unbeaten when GB won their qualifier in Pardubice, Czech Republic earlier this season with Brennan close behind on 13.
He added: "Dan has been on fire over the past few weeks, he's a great spearhead for the team. "But it's going to be up to the other four of us to step up a level if we are going to get in amongst the medals. We will give it everything and hopefully that will be enough."