BRENNAN 'GB A MASSIVE HELP'
TOM BRENNAN admits that Great Britain have helped him through a tough few years.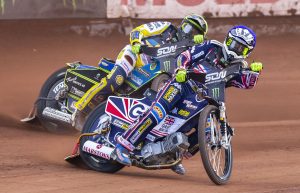 Images courtesy of Taylor Lanning Photography
The Swindon-born star lines up for his country at Glasgow on Saturday against the Rest of the World - just eight months after winning gold at the National Speedway Stadium.
Brennan, who turned 21 at the weekend, recovered from a horror crash and injury at Eastbourne and his home club closing down to hit the heights with GB last season.
He revealed: "It has been a rollercoaster the last few years and there have been rocky times.
"The low points were obviously breaking my leg badly at Eastbourne in 2019, there were other complications too which was a big worry at the time.
"Then when Eastbourne closed down last season, I was really struggling to deal with it all.
"But I can't thank Great Britain enough. The whole set-up really pulled me through the tough times.
"I don't think people in the sport really understand how important GB is for the riders. The meetings we do at home and abroad are so vital for belief and confidence.
"There's no doubt in my mind that the 20 points I scored in Bydgoszcz last season for GB turned my year around. Everything clicked after that day. Then I won gold with GB at Belle Vue and reach both league Grand Finals with my clubs.
"From what looked like being a terrible year ended up being an unbelievably good one.
"I've been lucky to have the GB Academy from an early age right through to now."
Brennan has been impressive with GB already this season with 13 points in the European Under-21 Team Championship win in Pardubice.
But he is quick to admit he wants to deliver more for his clubs and country, adding: "I'm very impatient and my own biggest critic. I don't take losing very well at all.
"I don't think that's such a bad thing, no successful sportsperson takes defeat well. I'm learning all the time, I've got the best people around me and now it's up to me to do it on the track.
"I still get frustrated with my consistency. It's not where I want to be just now. But I will figure it out.
"The main part of that is down to my starts. I just seem to click in some meetings and not at all in others.
"I've just got to get more experience. Racing for GB in such tough meetings really sharpens me up to improve. So I'll keep getting better, I know that for sure."