Brennan ready for business
Tom Brennan admits he is boosted by the constant support of Great Britain and three-times World Champion Tai Woffinden.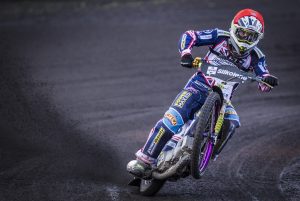 Images courtesy of Taylor Lanning Photography
The young Swindon-born star has travelled to his club Lodz in Poland for a training camp as preparation goes into overdrive for the 2021 campaign.

Brennan, 19, made huge progress during a Covid-19 disrupted 2020 season with solid performances in Europe and the UK.
Now he's got a busy calendar with clubs Belle Vue, Eastbourne and Lodz plus on international duty with Great Britain.
He revealed: "I travelled to Poland on March 1 for a month for training with my club Lodz. I believe I can ride almost every day of the week and three training matches to race in which I've been included in, which is awesome and I couldn't turn that down. They've been brilliant, giving me a place to stay and do my bikes. I'm driving out on my own.
"At this moment, that seems like a big sacrifice but it's something I am excited about doing for my career. It's where I want to be.
"I'm obviously leaving a lot of people behind, which will be hard, but they all understand and support me totally.
"Fitness-wise, mentally-wise, preparation-wise I am totally ready to go. I've been really lucky to have the support around me to make sure I'm in a good headspace."
Brennan admits he has worked hard on running his racing career as a business thanks to his girlfriend Kristen and family. Her father Craig was the mechanical brains behind Billy Hamill's World Championship victory in 1996 while Brennan's stepdad Martin Dugard was British Grand Prix champ in 2000.
He added: "Martin and Craig do work very differently but they both want the same thing and what is best for me. For me having those two sides working with me is so good. I've got the professional side of Craig and get up and go of Martin.
"I also have a huge amount of help from Craig's son Kyle, he was my mechanic last year and is studying engineering at university. Nothing gets past him.
"I've also learnt through Craig to run my Speedway like a business not a hobby. Now we have sponsorship packages and different organisations we are putting together. Better than I could have imagined at this stage.
"I took every single opportunity I could last year. With everything else going on, it was tough to stay focused on racing and not get distracted or dragged down by negativity.
"We made some sacrifices and vowed we are still going to travel, still going to give Speedway everything we could, no matter how little amount of meetings we had because this is what I love and what I want to do.
"I'm also grateful to have constant help from Great Britain. There's every kind of help from that side whatever I need. It's also been so good to have Tai Woffinden involved in so much and he helps a lot too.
"No one becomes World Champion without getting the full package right. It definitely takes a long time to get there but I believe I'm on the right track now and with the right mindset."