BRONZE FOR GB IN SON2
TOM BRENNAN admitted it was a "huge achievement" after Great Britain secured a fifth successive World Under-21 team medal.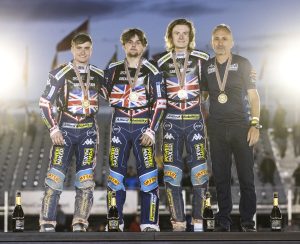 Images courtesy of Taylor Lanning Photography
On an eventual night in Vojens, Denmark, GB won bronze behind Poland and Czech Republic in the Speedway of Nations 2.
It meant that Great Britain have now won four bronze and one silver medal over the last five years.
Brennan, who top scored with 20, was outstanding all night alongside the battling Drew Kemp.
He said: "Obviously it's a massive result for us in a really tough field. In one way it's quite frustrating because we came very close to doing better.
"After so many near misses over the past few years, you always want to progress and get gold.
"But it's still a huge achievement to be consistent with picking up medals and I'm very proud.
"This is my last team meeting at Under-21 level so it's a good way to sign off I guess."
Brennan produced three vital wins but couldn't stop the Czech Republic's Jan Kvech winning the Grand Final Qualifier.
GB started with a defeat by Poland but grew into the meeting with wins over the hosts Denmark and then a 7-2 over Latvia before another win over Sweden.
A crash for Kemp on the freshly-watered surface in Heat 18 was a setback but GB secured a place in the race-off thanks to a Heat 21 with for Brennan over the Czechs.
Brennan added: "These meetings are always very hard. But I've learnt so much from riding for Great Britain on the continent for the last couple of years.
"This meeting a year ago changed my season overnight. I scored 20 in the last final ironically and then won gold in the senior Speedway of Nations.
"It underlines just how important all the meetings on the continent are to all the young British riders.
"This is another medal for Great Britain and we should all be really proud of that."
FIM SPEEDWAY OF NATIONS – SON2 SCORES:
1 POLAND 36: 3 Mateusz Cierniak 17, Jakub Miskowiak 15, Wiktor Przyjemski 4.
2 CZECH REPUBLIC 29: Jan Kvech 18, Petr Chlupac 11.
3 GREAT BRITAIN 28: Tom Brennan 20, Drew Kemp 8.
4 LATVIA 28: Francis Gusts 22, Ricards Ansviesulis 6.
5 DENMARK 26: Benjamin Basso 21, Kevin Juhl Pedersen 5, Jonas Knudsen 0.
6 AUSTRALIA 22: Keynan Rew 12, Fraser Bowes 10.
7 SWEDEN 18: Philip Hellstrom-Bangs 9, Casper Henriksson 5, Gustav Grahn 4.