DAN HAS GB PLAN
DAN GILKES admits that his Great Britain experience has taken him to "new levels" of performance.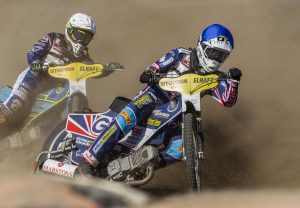 Images courtesy of Taylor Lanning Photography
The Northampton kid has been making steady progress including an excellent runner-up spot in the 2020 British Under-19 Championship.
But now Gilkes, 19, believes that he is ready to make an even bigger leap of form in British speedway.
He said: "I've been grateful for my opportunities with Great Britain in Europe. I scored 10 points in Hungary last year. That was a massive positive. You are racing against guys who are reserves in the Ekstraliga, Sweden and Denmark.
"I think that has made me push on much quicker, that experience has been so important in my development.
"At the Under-21 level we're all at a similar point. But a few of the guys have managed to get a bit of extra experience.
"I came into racing a year or two behind a few others. I'm at a stage now that I'm fully focused and I want to push on. I need to get out into Europe a bit more.
"Last year was probably my biggest year. Before then I'd only done half a season in the National League because of my injuries.
"It's been a constant battle for me mentally and riding-wise to feel comfortable. It's hard going to so many new tracks and learning. The crucial thing about speedway - or any sport - if you are mentally strong then the results come."
Gilkes is well known for his hard-working ethic and he is convinced that stamina and health is the key to success.
He added: "The one thing I can control is fitness. I always feel that if I do something I'm going to do it to the best level I can.
"I'm quite into my cycling so that means I want to train like a professional cyclist.
"That transfers into speedway. Everything I do, I want to get it to the highest standard I can.
"I'm a taller rider so I have to watch my weight more than others. It's a tricky compromise of trying to keep the strength up but losing the pounds. It's a learning curve every single day."