DAN THE MAN OF FORM
Dan Bewley believes that "variety" is the spice of Speedway life after delivering his most outstanding performances of the season.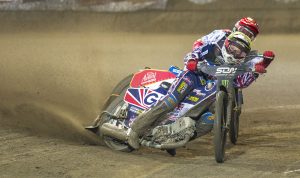 Image courtesy of Taylor Lanning Photography
The flying Cumbrian kid qualified for the European Championship in Pardubice and beat two-time world champ Bartosz Zmarzlik on his home soil in Poland.
But Bewley, 22, is taking it all in his stride and admits he is striving for consistency on the world stage.
He admitted: "It's good to win any race in the Ekstraliga but to win against Zmarzlik was cool. I was watching him practice before the meeting and thinking I have to race him!
"Sometimes you watch someone and think I can give them a go but he looked super-quick. It was good to beat him but at the end of the day he scored 14 or whatever and I got paid nine.
"I've got a long way to get to his level. I beat him once, he wins almost all his races. I've got to keep on it and keep working."
Bewley was quick to pay tribute to an incredible team behind him in Wroclaw which includes three-times British World Champ Tai Woffinden, Grand Prix star Maciej Janowski and four-times World Champ team advisor Greg Hancock.
The British Under-21 Champ also admitted that Woffinden's former lead mechanic, now manager Jacek Trojanowski has been a key part of his Polish emergence.
He added: "I've got a great team behind me in Poland. Jaco has been a great help. It's been disappointing that Tai has been out injured but has still been helping me in the pits. Magic and Greg have also been great."
Bewley dropped just two points in Belle Vue's 47-43 win over Sheffield and added: "I had a good night on Monday but the starts compared to Poland are a completely different game.
"It's going to be a new thing for me this year to deal with Poland and the UK racing leagues full-time. I think that is good for me.
"I was in Wroclaw on Sunday night and starts were grippy and then in Belle Vue on Monday and it was slick. You've got to adapt to that quickly. As my career goes on I will need that in my locker for different tracks in the GPs. I think it's good to have a lot of variety.
"I think we have a really cool team at Belle Vue. We have the Worrall brothers, Brady Kurtz and Charles (Wright) will get stronger as the seasons progresses.
"I feel the reserves could make the difference for us with Jye (Etheridge) improving so much while Tom (Brennan) is in his first season but he's fighting all the way. As the season goes on we are only going to get stronger."