DATA DRIVEN PERFORMANCE
REBECCA BLAKE is ready to give GB the most detailed athlete telemetrics in history.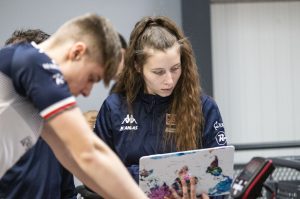 Images courtesy of Taylor Lanning Photography
She is currently in the process of organising a doctorate after completing a masters study on speedway at Solent University in Southampton.
Now she'll use that expertise to undertake the most specific analysis of British speedway riders ever seen.
She said: "We are starting from scratch. Firstly we need to establish what elements of information we need to collate.
"It's not just results based. It's about physical performance and other factors which add up to that. It's more about the way the athlete is built rather than what they do on the track.
"With the data I collect I can then go to Chris and Jeremy and explain what the numbers are saying and what certain tests are showing us. That information will filter into how they want to go forward and use it to improve the riders.
"Of course other sports are much further ahead with the use of intelligence and data science for performance.
"But we can't go down that route without data. So that's why I'm tasked with trying to understand what the rider is like on and off the bike.
"Then we can start to look at the different variables on tracks, environmental conditions.
"In order to get to that point, we need the information and that has started. It's never been done before in speedway.
"The end result is the ability to programme the riders more effectively and allow us to be able to control circumstances and maximise performance at the right times."