EUROPEAN PREVIEW
Five Great Britain riders are involved in important qualification events around Europe on Saturday.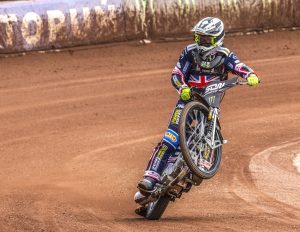 Image courtesy of Taylor Lanning Photography
The second SEC qualifier takes place at Hungarian venue Debrecen, and Adam Ellis is very much one of the contenders to make it through.
His main competition is likely to come from the likes of Kacper Woryna, Michael Jepsen Jensen, Janusz Kolodziej and former SEC champion Andzejs Lebedevs – and other familiar names include Gleb Chugunov, Dimitri Berge, Jacob Thorssell and Paco Castagna.
This weekend also sees the qualifying rounds for the FIM Speedway U21 World Championship, now to be re-branded as SGP2.
Tom Brennan, Drew Kemp and Jordan Palin all ride at Swedish venue Gislaved, with four qualifying places available.
A strong line-up features reigning champion Jakub Miskowiak, Swedish starlet Phillip Hellstrom-Bangs, Danish hotshot Benjamin Basso and Czech racer Jan Kvech, along with Birmingham's Aussie newcomer James Pearson.
Meanwhile youngster Sam Hagon is making the trip to Latvia to race at Daugavpils, in a meeting where the line-up does not appear as fierce, and where Polish duo Wiktor Lampart and Mateusz Cierniak will start as favourites.
The third qualifier is at Slovenian venue Krsko, and features Francis Gusts, Mateusz Swidnicki and Norick Blodorn, all of whom impressed in last season's U21 series.
Unfortunately, injury prevents Dan Gilkes and Leon Flint from taking their places in the meetings for GB.
The second round of Ekstraliga Under-24 action saw an impressive performance from Jordan Jenkins to top-score for Czestochowa. They were beaten 61-29 in Lublin, but Jenkins scored 9+1 from five rides, including a race win, whilst Hagon notched 3+1.
Elsewhere, Jack Smith scored 5+1 for Wroclaw in a narrow 45-44 defeat at Grudziadz, and Anders Rowe scored 3+1 for Gorzow in their 51-39 defeat at Leszno. Meanwhile Jordan Palin collected nine from six rides for Torun as they lost 40-50 at home to Ostrow, with Kyle Bickley adding 2+1.
The first week of Swedish action in the Bauhaus-Ligan included a big win for Smederna, 59-31 against Rospiggarna, with both British riders playing starring roles.
Dan Bewley racked up 15+2 from six rides, dropping his only point to Lebedevs in Heat 9, whilst Robert Lambert totalled 14+3, and again it was the Latvian who denied him a paid maximum when he took the flag in Heat 13.
That was Rospiggarna's second defeat as they also lost 52-38 at Lejonen on Tuesday, whilst Indianerna edged out Masarna 47-43, and there was a surprising 46-44 win for Piraterna over champions Dackarna.
In Denmark, Tai Woffinden returned to race-winning form with 13 points from seven rides for Esbjerg, including three victories, although he wasn't able to prevent a 37-47 home defeat to Holsted.
Woffinden and Bewley are back in action for struggling Ekstraliga champions Wroclaw on Friday – although they should have few problems in picking up their second win of the season at home to Ostrow.
Friday's other fixture features a clash of the early pace-setters as unbeaten Lublin host second-placed Leszno, who go into the meeting with three wins and a draw.
On Sunday the sides who currently sit third and fourth meet as Gorzow face Czestochowa, whilst Gruziadz host Torun in what promises to be a tight encounter.
In Division One, unbeaten leaders Krosno host Bydgoszcz on Monday, whilst the other three fixtures all take place on Sunday. Zielona Gora can take over at the top if they win at Lodz, Rybnik host Gniezno, and bottom club Gdansk who are without a point so far travel to Landshut.
In Division Two, Ellis is in action for Daugavpils on Sunday afternoon as they visit Opole – and a win would see them take over at the top if Poznan miss out in their trip to Rawicz. The other fixture in that league features Rzeszow against Tarnow.