EUROPEAN PREVIEW: SEC Pardubice
Great Britain duo Dan Bewley and Adam Ellis are in the Czech Republic for the final round of the Speedway Euro Championship at Pardubice on Friday.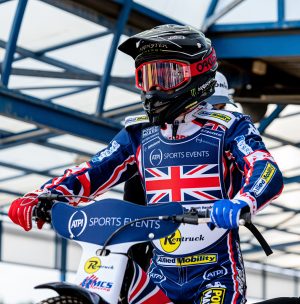 Image courtesy of Steve Hone Photography
And the two riders will also be competing in the prestigious Golden Helmet event on Sunday, which is one of the most famous individual meetings in the sport.
The SEC comes to a conclusion in its fourth round by visiting Pardubice for the first time, and it will also be the first time the series in its present-day form has staged its finale outside of Poland.
The fight for the title itself appears to be between Janusz Kolodziej and Leon Madsen who are separated by just one point on 41 and 40 respectively, although Patryk Dudek still remains in contention on 35.
Defending champion Mikkel Michelsen is fourth in 31, with a big battle expected for the fifth place which secures automatic qualification for 2023 – and would be especially significant for Bewley, as he would not be eligible for a nominated SEC place due to his status as a Grand Prix rider as the rules currently stand.
Bartosz Smektala is on 26 points with the chasing pack including Piotr Pawlicki, Rasmus Jensen and Dominik Kubera all on 21, and Bewley and Oliver Berntzon on 20.
Were either Bewley or Kubera to make it, that would be a significant achievement as both have missed one round of the series – Bewley was injured just prior to Round 1 in Rybnik, whilst Kubera is the first reserve and did not ride in Gustrow.
Bewley and Robert Lambert will also be racing in the Swedish Elitserien Final next week after Smederna confirmed their aggregate victory over Rospiggarna in the semi-finals.
The Eskilstuna side won the second leg 47-43 for a comfortable progression overall, with Lambert scoring 10+2 from six rides and Bewley adding 8+1 from five.
Their opponents in the Final will be Lejonen, who ended Dackarna's reign as champions with a 53-37 win in Malilla led by World Champion Bartosz Zmarzlik along with fellow top Poles Kubera and Dudek.
The Gislaved club will host the first leg of the Final on Tuesday, with the return at Eskilstuna on Wednesday.
Meanwhile it's a decisive weekend in Poland with championship and promotion issues to be decided in all three leagues.
Lublin dominated the PGE Ekstraliga throughout the season but the Final itself is fascinatingly poised as they face a 39-51 deficit heading in to the second leg at home to Gorzow on Sunday.
Much could depend on the fitness of Michelsen who has been undergoing intensive treatment in order to be fit for the meeting after missing last weekend's Swedish Grand Prix.
When the teams met in early August, Lublin raced to a massive 59-31 win, although on that occasion it was Gorzow who were affected by injuries – and Sunday will see Zmarzlik make his last appearance in their colours, ironically facing the club he is expected to join next season.
Third place overall will be decided between Czestochowa and Torun on Saturday, with the visitors holding a narrow two-point advantage and Lambert hoping to wrap up a positive campaign on a high, although the home side will be very much the favourites going into the meeting.
Promotion to the Ekstraliga will be decided on Saturday with Zielona Gora hosting Krosno, who take a ten-point lead into the meeting from the first leg a fortnight ago.
The Mickey Mouse side do remain favourites to make a rapid return to the top flight as they won 59-30 at home when the sides met in mid-July.
The Division Two finale takes place on Sunday with Opole hosting Poznan, with the visitors holding the edge as they lead 53-37 from the first leg, and they only lost by three points on their previous visit three months ago.