EUROPEAN REVIEW: SGP Malilla / British Final
Tai Woffinden boosted his hopes of automatic qualification for the 2023 Grand Prix series with fourth place at Malilla on Saturday.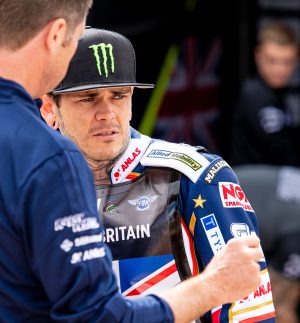 Image courtesy of Steve Hone Photography
Woffinden is still in mathematical contention for a top three finish overall, as he is 12 points behind Patryk Dudek, but his initial target in Torun on October 1 will be the four-point gap which separates him from Maciej Janowski and Fredrik Lindgren who are tied for sixth place.
For the fourth GP in succession, at least one GB rider made the Final with Woffinden making it through for the first time since he finished second at Prague in Round 3.
He had recovered from a last place in his first ride to score eight points in his next four, which was enough to go through as even seven points on this occasion turned out to be sufficient for Dudek.
Woffinden rode brilliantly to win the first semi-final, which turned out to be a momentous race for other reasons as a mechanical failure for Leon Madsen on the second lap instantly confirmed Bartosz Zmarzlik as World Champion.
Madsen had needed to outscore Zmarzlik to keep the fight going on to Torun, but his breakdown meant Zmarzlik was guaranteed to score more GP points, even had he retired from his own semi, as the Pole had scored 13 compared to Madsen's 10 in the qualifying races.
As it turned out, retirement from the semis was the last thing on Zmarzlik's mind as after the celebrations had died down he marked his third World title in style on-track by winning both the semi and the Final, being joined on the rostrum by Lindgren and Janowksi with Woffinden missing out.
Robert Lambert again made the semi-finals with ten points including two race wins, and his elimination at that stage translated into 11 GP points – but Dan Bewley was unable to consolidate his third place overall as he experienced a rare tough night after a crash in practice.
Bewley finished down the order with three points on the night, giving him just two GP points, and he is now seven behind Dudek overall.
Of course, his GP place for 2023 is already guaranteed but Max Fricke will be desperately hoping Bewley retains a top six place, as that would also put the Australian through courtesy of his fourth place in the GP Challenge.
With Zmarzlik confirmed as World Champion and Madsen all but secure in the runners-up spot, the race for third starts with Dudek on 100 points, closely followed by Lambert on 97 ahead of a 'home' GP at Torun. Bewley has 93, with Janowski and Lindgren just behind on 92, and Woffinden is eighth on 88.
Bewley did, however, bounce back quickly to win the British Final at Belle Vue on Sunday, taking that title for the first time in his career with an unbeaten performance at the National Speedway Stadium, with Tom Brennan and Craig Cook completing the rostrum finishers.
The weather caused a delay to two play-off Finals in Poland, with the Division One decider between Zielona Gora and Krosno now to take place this Sunday, whilst in Division Two Opole and Poznan will try again on Saturday.
In Sweden, Smederna established a clear lead over Rospiggarna in the first leg of their play-off semi-final, winning 55-35 at Eskilstuna on Monday.
Five riders scored heavily for the hosts with Grzegorz Zengota leading the way on 12+3, whilst Bewley and Kacper Woryna both notched 12+1. Michael Jepsen Jensen added 10+1 with Lambert on 9+1 to give them an advantageous position heading into Tuesday's return fixture.
The winners face either Dackarna or Lejonen in the Final.