EUROPEAN REVIEW: SGP Vojens / Ekstraliga
Robert Lambert has joined the battle for World Championship medals after a best-ever Grand Prix finish in Vojens on Saturday.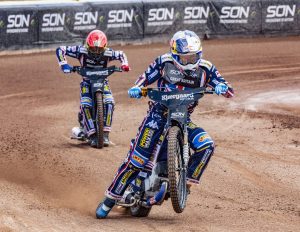 Image courtesy of Taylor Lanning Photography
Lambert followed up his third place from Wroclaw a fortnight earlier with runners-up position in Denmark, behind champion-elect Bartosz Zmarzlik.
The Polish star grabbed his second GP win of the campaign but it was so close for Lambert, who had to momentarily shut off on the back straight when he appeared to have the run on the outside as Zmarzlik defended his position.
Ironically Lambert's progression in the meeting followed a similar pattern to that of Dan Bewley in Wroclaw as he had just five points from his opening four rides, and was under pressure after a tapes exclusion in Heat 12.
But Lambert crucially won Heat 20 against Zmarzlik as Bewley's own hopes of completing a GP hat-trick were ended as he too suffered a tapes exclusion.
Top of the leaderboard at that stage was Tai Woffinden, who headed three riders on 11 points despite suffering a last place first time out.
But the semi-finals produced surprise results with both Woffinden and Mikkel Michelsen, who had selected what was a clearly preferable outside gate to that point, both missed out on progression.
With Zmarzlik winning the Final ahead of Lambert and Leon Madsen, with Patryk Dudek fourth, it means the overall series lead is back up to 20 points, and Zmarzlik effectively just needs to outscore Madsen in Malilla this weekend to secure the title.
But it's the battle for third which is more likely to go all the way with Bewley now on 91 points, one ahead of Dudek on 90, with Lambert breathing down their necks on 86, and with the final round taking place at his home Polish track of Torun.
Maciej Janowski holds sixth place on 76 but both Fredrik Lindgren and Woffinden have 74 with Jason Doyle and Michelsen both on 69 – but Michelsen will miss the Malilla meeting after it was confirmed he broke a bone in his ankle in his crash at Torun recently.
The Dane is determined get back for the second leg of the Ekstraliga Grand Final, and Lublin's hopes may well depend on it, as the tie is set for a fascinating conclusion with Gorzow establishing a 51-39 lead from their home meeting.
Michelsen was only able to take four rides, and without the efforts of Dominik Kubera, who won his first four and finished on 16 points, the league leaders may have subsided completely.
It was still a remarkable result as Lublin led 29-25 after nine races, but there were four 5-1s in the last six heats to Gorzow which altered the complexion of the Final.
Zmarzlik, in his final home appearance before he leaves the club this winter, led the way with 16+1 from six rides, and there were also big performances from Martin Vaculik (14+2) and Szymon Wozniak (11+2) to set up the result.
Meanwhile Czestochowa are favourites to take third place overall after holding Torun to a 46-44 win in the home leg, and in fact they were leading prior to a Heat 14 5-1 from Lambert and Dudek to put the home side back in front, with Jack Holder then winning Heat 15.
Holder enjoyed his best display of the season with 16 points whilst Pawel Przedpelski picked up 11+1 and Lambert added 9+4. Kacper Woryna top-scored for Czestochowa with 11+1.
The second legs take place on the weekend of September 24/25 with the third-place meeting on the Saturday and the Final on the Sunday, both at 6.15pm UK time.
The Division One Final is also well poised after the first leg, with Krosno establishing a 50-40 lead over Zielona Gora in a meeting which took place on Monday after being postponed due to rain one day earlier.
Vaclav Milik and Andzejs Lebedevs (both 10+1) headed up a solid all-round display from the Wolves, whilst Aussie duo Rohan Tungate (15) and Max Fricke (13) scored all but 12 of the Zielona Gora points between them.
The second leg takes place on Sunday at 3pm UK time.
Meanwhile Poznan are favourites to win promotion from Division Two after a 53-37 win over Opole in the first leg.
Latvian star Francis Gusts scored a 15-point maximum with Emil Breum, who had a ride in the Danish GP, adding 11. The second leg is on Sunday at 12.30pm UK time.
Midweek action focuses on the play-off semi-finals in the Bahaus-Ligan in Sweden, with Lambert and Bewley lining up for Smederna on Tuesday in their home clash with Rospiggarna.
The first leg of the other semi-final between Lejonen and Dackarna takes place on Wednesday after an early postponement on Tuesday.