FIGHTING FIT FLINT
LEON FLINT believes the fit and body in mind ideology is crucial for a speedway star.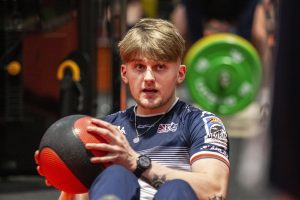 Images courtesy of Taylor Lanning Photography
The Berwick-born prospect is certainly benefitting from working in a gym for his daily job. He almost has a healthy obsessive air about his approach to being an athlete.

Flint, 19, has already made several appearances for Great Britain and is ready to go up a gear in 2022.
He added: "I work in a gym and I love it. It's especially good with speedway. I'm learning stuff about myself at the Great Britain Performance Camp, but I'm also getting the same knowledge in my job.
"It's really important. I think I might have that edge of what to do with my body and my training over other people.
"There's only so far talent can take you. In no way would I suggest that young guys should worry about what they eat and to stay fit but in my juniors days I didn't think of any of that.
"Not to sound big-headed but I was just skilful on a bike then. That's what got me the success.
"But when you get thrown in with the big boys, that's what everyone has come up from.
"I realised when I had my first proper season in 2019 and came up against some very good riders. I took a step back, I knew that I had good equipment and I felt I had to knuckle down and be the athlete that I need to be.
"It works in two ways being in a gym every day. Some people think it's easy to stay fit working there. It's actually the opposite. The last thing you want to do after standing about for eight hours is then to actually work out in one. As weird as that sounds.
"I'm in a good place. I absolutely love training at least twice a day now. I learn plenty of stuff with the Great Britain Performance Camp. Chris (Neville) knows an extreme amount, he's probably been in this game longer than I've been alive.
"It's really helpful especially if I need to get answers to certain questions, he's always willing to help, even if it's in my personal life away from speedway.
"Last year I didn't actually touch any weights, other than doing just functional training.
"I was just focused on getting myself to a particular weight, weighing myself twice a day. I was watching how I fluctuated all the time. But it took up too much unnecessary time of my life.
"I had fairly good abs but everything else about me felt scrawny. I'm now not exactly as light as I was last year but I feel happy with my body.
"Now I feel like I'm training as an athlete, last year I was just trying to lose weight.
"The biggest thing about speedway is that the points come if you feel good. That's exactly how I feel."