GB ANNOUNCE WORLD CUP TEAM
GREAT BRITAIN boss Olly Allen believes they are heading into the toughest World Cup of all-time.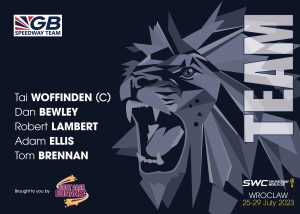 Bought to you by: https://giantcashbonanza.onlin...
The national side head to Wroclaw in Poland this week before racing Sweden, Czech Republic and Germany in Semi-Final 1 on Tuesday night.
Allen and co-boss Simon Stead have announced their final team as Tai Woffinden, Robert Lambert, Dan Bewley, Adam Ellis and Tom Brennan at reserve.
While the three Grand Prix stars were an obvious pick, the excellent form from Ellis in Poland and Brennan's consistent performances on the continent in FIME European events made them the natural choices.
Allen admitted: "No decision is taken lightly. Simon and I have been thinking about this for 12 months.
"We constantly observe the riders, who is scoring and most importantly, where they are performing.
"What is really key for me with the World Cup is Polish speedway. It is a completely different proposition than British speedway.
"The top three riders pick themselves, we know that. So then you are looking at your fourth and fifth riders.
"We then have to go to riders who have experience on the continent in world championship and European standard events regularly.
"It is also paramount for the riders to be riding regularly in Poland. It's the track, the material, preparation and dealing with the pressure.
"There are also other elements like use of tyres which are different to those used in the UK. There are other mechanical and technical issues which are unique to racing in Poland.
"Both Adam and Tom have been used to this over the past couple of seasons. They have also participated in the majority of our European events to gain the experience for the World Cup.
"They have done the hard yards to gather as much knowledge as they can for this World Cup.
"Adam and Tom have shown a constant willingness and desire to ride for Great Britain and to further their careers."
There's little doubt that GB will have their strongest five-man team for two decades for this World Cup.
But Allen is under no illusions on how difficult the task will be in Wroclaw this week.
He added: "It will be tough, no doubt about that. It's a cliche, but we very much take one meeting at a time. For me it's the toughest World Cup there has ever been.
"Once upon a time you had one or two strong teams. Now there's five or six and every rider is world class.
"The first event is the first hurdle. We take nothing for granted. We are very confident in the team we have picked as being the best for the job in hand.
"But every country is capable of reaching the final. There are no weak links in my opinion.
"Last year we were given a huge battle to reach the final, the French were brilliant in Vojens. We will have to work hard for every point, the boys know that and are up for it."