GB Hall of Fame - Simon Wigg
Simon Wigg's career cannot be summed up merely with statistics, because that would do his contribution to British Speedway a grave dishonour.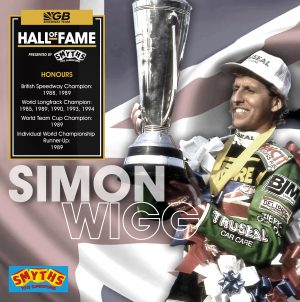 Simon Wigg image courtesy of Jeff Davies

'Wiggy', as he was so affectionately known, was an innovator, a maverick, a man ahead of his time. He did things before anyone else did them, he set trends, he made statements and he captured hearts and minds.
After making his name as a grass and longtrack rider, he started his Speedway career with Weymouth in 1980 and rose through the ranks quickly to become one of the fastest and most popular riders in Britain and just four years later he qualified for his first individual World Final.
Just a year later he won the first of his five World Longtrack titles while also winning the British League Championship with Oxford, but best year of his career undoubtedly came in 1989.
Not only did he retain the British title he won in '88, he also enjoyed his best World Championship finish (2nd) and was also part of the Great Britain team that won the World Team Cup, which to this day is the last time GB stood on the top step of the sport's biggest team championship.
It wasn't, though, just Wigg's on track achievements that makes him so deserving of his place in the Great Britain Hall of Fame. His flamboyance, his charm, his relationship with the fans, his iconic green leathers, that was what made Simon Wigg one of the most popular British riders to grace the shale.
In 2000, almost 20 years ago to the day, he passed way at the tragically young age of 40 after battling with a brain tumour in his final years.
Wiggy's personality left an unmistakeable mark on British Speedway and it is for that reason, as well as being a truly exceptional rider, he becomes the very first Great Britain Speedway Hall of Fame inductee.
Major Honours
British Speedway Champion: 1988, 1989
World Longtrack Champion: 1985, 1989, 1990, 1993, 1994
World Team Cup Champion: 1989
Individual World Championship Runner-Up: 1989