GB Heartbreak for Woffinden
Tai Woffinden admits it's "super-frustrating" to be ruled out of the Great Britain team for the Speedway of Nations after his horror crash on Sunday night.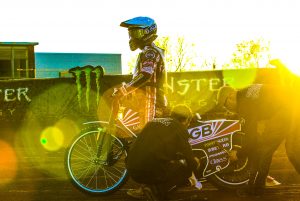 The three-times World Champion suffered a fractured fifth metacarpal when he had nowhere to go but plough into Danish star Niels-Kristian Iversen who had fallen in front of him in Gorzow.

After an operation on Monday, Woffinden has finally had to concede that he will not be able to race for GB in the Speedway of Nations finals on October 16/17 in Lublin, Poland.
Woffinden admitted: "It was a big crash, it's what we do, it's all part and parcel of it.
"It's frustrating because Rob's riding really good at the moment, we had a genuine good opportunity coming into the Speedway of Nations.
"I'd say that Rob is in better form than when we got silver two years ago in Wroclaw.
"I'm sure it's super-frustrating for everyone else as well. Rob Painter and the team and all the GB partners and most of all the fans.
"I had options. The first one was try to ride with it as it is. But I knew deep down that wouldn't be possible because the majority of your grip is from your little finger.
"It's my fifth metacarpal that is broken in two places. It's the bone in my left hand than runs in line with my pinkie. The second option was to plate it, but I had the conversation with my surgeon and the plate isn't as strong as the plate in my collarbone.
"So essentially it wouldn't do the same thing it did in 2013 where the plate becomes the bone. So there would probably still be pain there.
"It's not ideal but the operation went good, we got two pins in it. They managed to get the bone quite straight.
"It is what it is and there's definitely no opportunity to ride. Because of the vibration the surgeon was quite adamant that I could cause more damage and potentially taking the bone out and a replacement put in."
Having almost grabbed gold with GB with Robert Lambert in 2018, Woffinden has now missed the last two Speedway of Nations finals.
But the most successful British rider in speedway history, hopes another Brit can come in and be a hero in red, white and blue in Poland.
He added: "My downfall is a great opportunity for another rider. I hope that whoever gets the opportunity takes it with both hands and really makes the most of it like I did when I was younger."
Woffinden was also quick to admit that he hasn't been anywhere near his best all year despite securing a silver medal in the World Championship on Saturday night.
He said: "I haven't been on form this year at all. I never felt comfortable, I haven't felt like I've got really good speed where I can really get stuck in and race the guys.
"We need to try and find out why it's been like that and not be in that situation again."