GB INTO WORLD CUP FINAL
GREAT BRITAIN Captain Tai Woffinden was delighted with the spirit of the team as they qualified for the World Cup Final.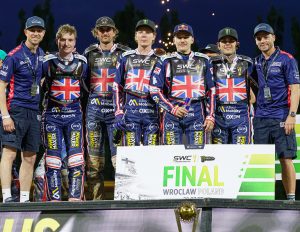 The national side went through to Saturday's showpiece after winning the Semi-Final with 43 ahead of Sweden 32, Czech Republic 23 and Germany 22 in Wroclaw.
GB were always in control with Dan Bewley top scoring with 14 points while Robert Lambert and Tai Woffinden backed him solidly with 13 and 10.
Woffinden said: "We wouldn't be here if we didn't believe we could do it, 100 per cent.
"It's nice to go straight through to the Final, we can have a few days off now.
"A massive thanks to all the fans for showing up. It's so great to see all the British flags in the stadium. We really appreciate it. Roll on the final and let's give it to them.
"It's an amazing team we have. Adam Ellis was the only one to win a race in the first block so he set the bar pretty high for us. All the other boys followed up.
"Then to let Tom Brennan have the last ride, so he got some track time as well. He showed good pace to jump in that late in the meeting was pretty good. Team effort, well done."
GB were always in control as they opened strongly with 10 points from the opening four heats.
Sweden were always threatening the top spot but consistency was the key and Bewley wrapped up the win by taking victory in Heat 17.
GB will face hosts Poland in Saturday night's Final. The final two places will consist from the winner on Wednesday night's second Semi-Final and the Race-Off on Friday.
Great Britain 43: Dan Bewley 14, Robert Lambert 13, Tai Woffinden 10, Adam Ellis 4, Tom Brennan 2.
Sweden 32: Fredrik Lindgren 12, Jacob Thorsell 8, Antonio Lindback 6, Oliver Bentzon 5, Kim Nilsson 1.
Czech Republic 23: Vaclav Milik 11, Jan Kvech 10, Daniel Klima 1, Petr Chulpac 1, Hynek Stichauer 0.
Germany 22: Kai Huckenbeck 11, Kevin Wolbert 7, Erik Riss 2, Martin Smolinski 1, Norick Blodorn 1.