GB kids getting "stronger" says Palin
Talented Jordan Palin believes the next generation of Great Britain kids are getting "stronger" as a unit with experience.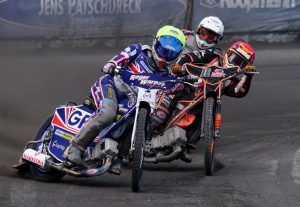 Images courtesy of Steve Hone
The national side finished third in the European Under-23 Team Championship semi-final behind Denmark and Germany in Brokstedt, Germany at the weekend.
After being level on eight points with their two rivals following the opening four heats, GB just fell away in the latter stages.
But Palin was delighted the way they performed despite being the youngest side on track by some margin.
He said: "We were the youngest team so there was a lack of experience. But in a couple of years we'll be unstoppable.
"All the riders that went to Germany are friends on and off the track and we are getting stronger as a unit.
"Great Britain are giving us all the tools to go as far as we can in the sport. We are all making huge strides in progress all the time."
Palin scored four points in Germany but admits he is learning so much in a tough season of stepping up to the top two leagues in the UK.
He added: "I've taken a lot on this year. My points aren't what I want right now but I feel I'm learning a lot in every meeting.
"Prior to this season I've only done one year in the National League, so riding in the Premiership and Championship is a massive step up. I've just got to take as much as I can out of each meeting I race in.
"It's been a rollercoaster results-wise. But I've had enough good meetings to give me belief over the tough meetings I've had."
European Under-23 Team semi-final.
Denmark 47, Germany 44, Great Britain 27 (Drew Kemp 11, Leon Flint 6, Tom Brennan 6, Jordan Palin 4, Dan Gilkes 0), Finland 1.