GB ON THE GAS
GREAT BRITAIN star Tai Woffinden says his side are "on the gas" ahead of the World Cup Final.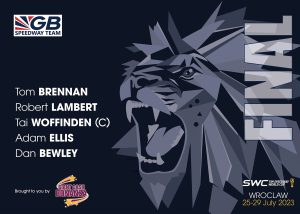 Bought to you by: https://giantcashbonanza.online/gbspeedway/

The three-time World Champ leads his side into Saturday night's showpiece event against hosts Poland, Denmark and Australia in Wroclaw.
Woffy, 32, admitted: "I've been looking forward to it, super-excited to race at Wroclaw in a World Cup.
"I don't think we've had a team this strong for a very long time, especially a four-man team and a reserve.
"All the boys are on the gas. We'll see how we go and keep chipping away at it. The first job was to get to the Final then give them hell when we do make it.
"A Gold is a Gold. I always want to win more. That's why I do this is to win medals."
Great Britain will keep the same side which qualified comfortably from the Semi-Final 1 with Woffinden, Dan Bewley, Robert Lambert, Adam Ellis and Tom Brennan.
Bewley top scored with 14 on Tuesday night and added: "This is my favourite meeting as a fan the World Cup, I'm glad to see it back.
"I want to give a shout out to the fans who came out to Poland midweek to support us.
"Also it's very cool to see Darcy Ward out here. If it wasn't for him and Tai, I probably wouldn't be a Speedway rider.
"We put a good show on in the Semi-Final now we just need to focus on Saturday night."
GB Team Line-Up - FINAL
Tom Brennan
Robert Lambert
Tai Woffinden (C)
Adam Ellis
Dan Bewley