GB Partner Announcement
Great Britain Speedway Team are pleased to announce the continuation of our partnership with Global Challenge Event Partner, Rentruck of Rochdale, vehicle rental specialists.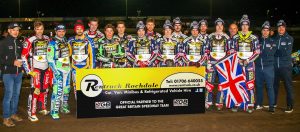 Images courtesy of Chris Simpson
Rentruck has a huge affinity for Speedway in general, and specifically the Belle Vue Aces and the National Team platform, which includes all levels from the GBST Academy through to the senior Great Britain Team.

Rentruck Managing Director, Richard Cotton was once again delighted to continue the relationship, and said "When we were approached about renewing our partnership, we took very little persuading. We have been very happy with our tie-up over the recent years, benefitting greatly from the exposure afforded to us over this period, and nurturing a personal relationship with Great Britain Director's Rob Painter and Vicky Blackwell. We would urge any other companies or individuals thinking of getting involved in some form of sponsorship with the National Team to do so, you won`t regret it.
We are very much looking forward to the 2021 Speedway season and in collaboration with our sister company, Van and Kombi, have taken a huge leap of faith in ordering 40 Transporter panel vans aimed at supplying Speedway riders and clubs across all 3 leagues, to solve any transportation requirements they may have. We are also more than happy to supply customers with similar vehicles, for non-Speedway related requirements."
Great Britain Managing Director Rob Painter said, "We have seen extensive growth of the Great Britain Speedway Team platform even in these recent most challenging times and it certainly is an exciting time to be involved in those developments. We are delighted to have Rentruck of Rochdale, and their Managing Director Richard Cotton's continued support. Richard is passionate about Speedway, has been fantastic to work with and we have a great relationship. One of our key objectives was to increase the number of on-track Great Britain events which saw the launch of the Global Challenge Series, something that simply wouldn't be possible without the invaluable support of our partners and Rentruck have been extremely supportive of the Global Challenge and we look forward to releasing announcements in the coming weeks with GB's full event calendar.