GB PROGRESSION
GREAT BRITAIN co-boss Simon Stead is delighted with the "progression" of the national side. It's been an excellent five years of medals for the national team on every level of the international stage.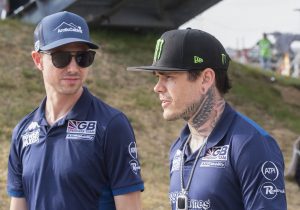 Image Courtesy of Taylor Lanning Photography
But Gold and Silver in the Speedway of Nations over the past two seasons have undoubtedly elevated GB to a new standing in the world.
Stead is encouraged with the new positivity around the team, admitting: "It's great that we've had such good progression. A lot of credit goes to the riders who have stepped up.
"But also to the team around them at Great Britain and how we all go about the job in hand.
"There has been a transition period and we've come a long way in a short time. But I honestly feel that the best is yet to come.
"We have already achieved a great deal by being crowned World Champions two years ago.
"It was obviously a huge turning point for us. We showed the rest of the world that we were a force to be reckoned with once again.
"To back that up with a Silver medal last season proved we are here to stay.
"I felt we were the best team during the final last year but it didn't work out. The same as we were in 2018. Likewise Poland might have felt the same in 2021.
"But it proves that there's such a fine line between success and failure at the very top of the sport. Ultimately you will also need a bit of luck on the day."
Stead also admits there will now be an interesting fresh outlook towards the new World Cup and five rider format - and more opportunities for emerging Brits.
He added: "It's been unfortunate the last two year's that Tai has missed the finals. He is a huge asset to GB. Not just on track but also his mentality and what he brings off-track.
"We are lucky to have a rider of Tai's calibre and likewise Robert Lambert and Dan Bewley. In my opinion, the best top three of any nation in the world.
"But that won't be enough to win the World Cup. We need to have strength in depth.
"Last leaves the door wide open for two other places in the squad for Wroclaw.
"There are a clutch of riders who are aware that form will come into play and can make it into the team. The final positions will be picked on form."